Desk wheels are a great way to add mobility to your work setup and make your workspace more flexible. But before you buy any desk wheels, there are some things you should consider.
First, what kind of surface will the desk wheels be rolling on? If it's carpeting or rugs, then you should look for wheels designed specifically for that surface. Otherwise, you'll need to find more hardy and durable wheels that can withstand rough surfaces.
Next, consider the weight of your desk and equipment. You need to make sure that the wheels are strong enough to support the total weight of your desk and the items on it. If not, your desk could end up tipping over or being unstable due to the weight.
Finally, think about how easy it is to move your desk around. Does the wheel design allow for effortless movement? If not, you may want to look for wheels with a larger diameter that can easily roll over most surfaces.
By taking these factors into account, you can make sure that you choose the best wheels for your desk and ensure that your workspace is safe and secure.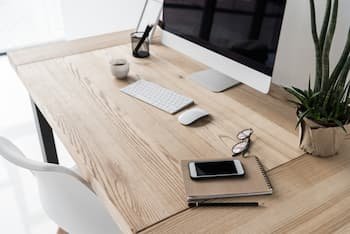 How to Choose the Right Desk Wheels
Table of Contents
What are Desk Rollers and their Benefits
Desk rollers are devices that allow office desks to be easily moved. They typically have a wheel on each corner and can be locked in place to allow the desk to stay stationary.
Desk rollers are beneficial because they make desks easier to move, provide a smoother transition when moving desks, and can even add stability to a desk when in use.
Additionally, desk rollers come in various forms and materials, allowing users to select one suited to their specific needs and preferences.
Buying Guide for the Best Desk Casters or Rollers
When looking for the best desk caster or roller for your office, it can be difficult to know where to start. There are many elements to consider such as size, design, and type, as well as factors like cost and durability.
This buying guide will provide you with an overview of these key factors so that you can make an informed decision about the best desk caster or roller for you.
Types of Desk Rollers
Desk rollers come in a variety of different types, depending on the level of maneuverability needed.
The three most common types are swivel, fixed, and tilting. Swivel desk rollers allow for the desk to rotate in place while remaining stationary. Fixed desk rollers have non-turning wheels that keep the desk locked into a single position.
Tilting desk rollers let the desk tilt slightly at an angle before angling back in order to train writing or typing muscles. Each type of roller has its own benefits and drawbacks which should be taken into consideration when selecting the right one for your needs.
Factors to Consider while Purchasing Desk Rollers
When purchasing desk rollers, there are a few factors to keep in mind.
First, consider the size and weight of the desk you plan to use them on. Different brands offer different sizes, so it's important to choose one that is compatible with your desk.
Second, consider the type of flooring you have; some types of desk rollers work better on certain types of flooring than others.
Third, think about how much space you have to maneuver around when using the desk roller; if it's too small or too large for your space, it may be uncomfortable or difficult to use.
Finally, consider the cost-effectiveness of the product; some are more expensive than others but may offer more features or better quality. Taking these factors into account can help ensure that you get the best possible value for your money when buying a desk roller.
Wheels to get your desk moving
Wheels can be a great way to get your desk moving. Caster wheels are the best choice for desks as they are designed with the weight of a desk in mind and are easy to install.
When choosing caster wheels you want to make sure they have locks so that you can choose the height you want your desk to be, allowing you to work comfortably.
It is also important to make sure that the caster wheels are made from durable materials that will hold up well over time, allowing your desk to roll easily and stay in place.
The best option is usually two-inch diameter caster wheels, which are large enough to support the weight of a heavy desk while still being small enough not to take away from the aesthetics of the room.
Do casters make the desk less stable?
Casters certainly can make a desk less stable, depending on the type and quality of the casters being used. Casters made from plastic or low-grade metals may not be as durable or long-lasting as those made from higher-grade materials.
Additionally, if the casters are not properly installed, they can cause the desk to wobble no matter what material they are made from. For desks that are meant to remain in one place, such as a home office or workspace, it is important to choose high-quality casters that will stand up to regular use and not affect the stability of the desk.
If you do decide to use casters with your desk, make sure to check them regularly for signs of wear and tear so you can replace them before they start causing instability issues.
Desk Casters and Materials Used in Manufacture
Desk casters are an important part of any desk or workstation, allowing for easy and convenient mobility. Casters come in a variety of materials and sizes to suit different needs. Common materials used in the manufacture of casters include steel, aluminum, stainless steel, plastic, and nylon.
Steel is typically the strongest material option but can be more expensive than other options. Aluminum is lightweight but not as strong as steel. Stainless steel is resistant to corrosion and rusting while plastic is affordable but not as durable as metal options. Nylon offers good strength and durability but with less noise than metal casters.
Depending on the type of work environment, one or more of these materials may be the best choice for your desk casters.
Load Capacity
When it comes to selecting a desk with wheels, or casters, for a desk frame, the load capacity of these desks is extremely important.
This is because they assist in allowing us to make moving furniture around much more straightforward. If not correctly chosen, with the right load capacity, there is a risk of them buckling and no longer providing a suitable level of support under heavier loads.
Selecting the right desk wheels for the job will therefore ensure that the desk can be moved easily around when needed, but also that it can support its intended purpose without any worries about buckling casters.
Noise Levels During Rolling Operation
Desk rollers or casters on office chairs frequently move a lot, which can increase noise levels in the workspace. As they move frequently either to adjust position, slide across the floor, or simply just adjust the height, those movements create a rumbling sound.
If you have ever heard a desk chair moving during rolling operation you will understand why it can create such a disruptively loud sound that can irritate both workers and colleagues.
Quality of Bearings & Locking Mechanism
When shopping for desk rollers or casters, quality, and durability should be your top priority. High-quality bearings used in desk rollers or casters can ensure their available longevity. Going beyond that, adjustable locking mechanisms which are available on many of these products provide increased safety and stability in any situation.
Quality customer service can help to ensure that you end up with a product that is suitable for your purpose, making sure the available strong construction materials will hold up under high-weight loads and demanding environments.
Popular Brands Selling Desk Rollers
Popular brands selling desk rollers or casters are a great option for those looking to upgrade their home office space due to their durability and ability to lock into place. Many popular online retailers offer casters that can come in a set of four or are available for sale individually.
Additionally, the casters come in a variety of models to fit the customer's exact needs – be it needing extra support, being able to rotate easier, etc. The free shipping, return policy options, and excellent customer service that well-known brands provide also make purchasing casters an easy choice.
Furthermore, they often include recommendations on which models are best suited for various purposes, making it easier for customers to find what they need quickly and conveniently.
Desk with Wheels and Frequently Bought Chair and Desk Casters
Image
Product
Features
Price

Le Crozz Height Adjustable Mobile Laptop Stand Desk Rolling Cart, Height Adjustable from 28'' to 33''

Mobility: rolling cart with four wheels, includes two locking wheels
Adjustable Height: from 28'' to 33'' with locking knob
Wider Desktop: 26'' wider desktop than other in the market
Easy Assembly: quick and easy, all hardwares/tools are included; Dimension: 25.9'' W x 15.75''L x 33''H(highest configuration)

Discover Your Best Deals Now!
Check Other Retailers

AHB 47" Rolling Computer Desk with 4 Smooth Wheels and 3 Iron Hooks, Simple Style Mobile Writing Desk Home Office Study Table Movable Workstation with Metal Frame

MINIMALIST DESIGN: Simple and modern AHB rolling computer desk features industrial rustic brown tabletop and metal frame. It is suitable for most interior decoration styles, whether it's in the living room, study room,office and schoolroom.
MULTI-PURPOSE DESK: It could be used as rolling computer/writing desk, which effortlessly lock and firmly keep desk secure. Upgraded 4 smooth casters (two with lock) easy to move without making noise and surface scratches on floor (not recommended to use on SOLID wood floor)
STURDY CONSTRUCTION:ECO-friendly E1-grade particlebord and black metall frame is stable for a long-term usage. Load capacity 330lbs.
USER-FRIENDLY: Following the clear installation manual, you could finish the assembly within 20 minutes; Gray storage bag with spacious space to organize personal things; 3 hooks to hang different objects
SPECIFICATION: Desk with casters; Storage 23.5"L*4"W*9.5"H; It comes with one writing desk, 3 iron hooks, 4 wheels, one storage bag, hardware, tools and instruction. Install Required.

Discover Your Best Deals Now!
Check Other Retailers

2" Locking Casters for Stand Up Desk Store Dual Motor Electric Adjustable Height Standing Desk with EZ Assemble Steel Frame (Black, Non-Marking)

Turns any SUDS electric height adjustable desk into a standing desk on wheels; makes it easy to reconfigure a room for collaborative projects
Standing desk casters add two inches to the overall height, helping to better accommodate very tall users.
Locking brakes help keep the desk firmly in place
Wheels are 2" in diameter; connection bolts are M8 x 15mm
Stand Up Desk Store is a US-based company and stands behind all items we sell; this item comes with a 5-year limited warranty against defects

Discover Your Best Deals Now!
Check Other Retailers

SHW Electric Height Adjustable Mobile Rolling Standing Desk Workstation, 40 x 24 Inches, Black

Included Accessories: 2 hanging hooks, cable management organizer and a multi-purposed center drawer. Mobility - ease to move between working space with 4 lockable wheels.
Digital Display Handset - 4 memory preset options for easy adjustment.
Electric Lift System - Fully motorized lift from 28 to 45 Inches height
Telescopic Height Adjustment - Strong and Sturdy high-grade industrial steel legs enable a smooth transition from sitting to standing from 28" to 45"
Measures - 40" L x 24" W x 28-45 " H

Discover Your Best Deals Now!
Check Other Retailers

Stand Steady Attachable Desk Wheels | Set of 4 Locking Casters | Easy-Roll and Non-Marring | Full Swivel Wheels Compatible with Tranzendesk Standing Desks (2 Inch/Black)

COMPATIBLE WITH TRANZENDESKS: These easy-glide wheels are the perfect add-on accessory to your manual Stand Steady Tranzendesk standing desk! Not compatible with electric Tranzendesks
SMOOTH & SILENT: The non-marring wheels are safe for all floor types - while remaining silent! Easily move your desk around your home or office without causing damage to your flooring
FULL 360° SWIVEL: Move your desk around your workspace without breaking a sweat.! The fully rotating desk wheels make maneuvering your Tranzendesk a breeze. *The wheels have a 2" diameter and M10x1.5 threading
EASY ATTACHMENT: Make your Tranzendesk mobile in minutes with these easy-attaching wheels. Simply remove the leveling feet and twist on the Stand Steady wheels
SECURE LOCKING CASTERS: All four wheels lock with ease, so you can be sure that your desk is secure while you work

Discover Your Best Deals Now!
Check Other Retailers

FAMISKY 48 Inch Dual Motor Height Adjustable Standing Desk with Foot Rest, Sit Stand Home Office Desk with Hooks, Ergonomic Workstation Black Steel Frame/Black Wood Top

【Electric Height Adjustable】The electric standing desk with dual motors lift mechanism offers smoother height adjustments, from 27.56 to 44.88 inches.
【Dual Motor System】 Dual motor offers smoother height adjustments, at a faster speed with lower noise (under 40 DB). It can hold up to 220 LB.
【Two Desk Hooks】The hooks provide an additional choice to help you better allocate and organize your desktop space, such as headphones and bag.
【Solid Construction】This stand up desk frame is made of steel to provide sturdy quality. This high-quality mechanical structure allows you to place loads of up to 220 lbs.port and detailed instruction would be offered. To accelerate the assembly, we provide simple tools like a hex key
【Easy Assemble] The desk is easy to assmble, we provide step-by-step instructions and simple tools like hex key included. If you have any questions, please feel free to contact us and we will do our best to help you solve the problems you encounter.

Discover Your Best Deals Now!
Check Other Retailers

FlexiSpot Height Adjustable Desk Leg Casters Wheels Set of 4 pcs

Please note: Not all Flexispot Height Adjustable Desk Frames fit the wheels, like E150 series, please check your desk frame before buying
Easy to install it to your desk leg
Change it to the pad easily, two ways for you
FlexiSpot desk casters make the desks mobile. If you rearrange your spaces frequently or move a lot, casters can help make moving desk easy for you.For safety and stability, 2 of the casters lock to keep the desk in place.

Discover Your Best Deals Now!
Check Other Retailers

1.5" Threaded Stem Casters with Brake, Heavy Duty Swivel Caster with M8x25 Threaded Stem and Nuts for Shopping Carts, Trolley, Workbench, Furniture (Pack of 4) (M8x25)

STANDARD METRIC SIZE - Threaded diamater: 8mm/M8; Threaded Length: 25mm/1""; Caster Diameter: 40mm/1.5".
MAX FLEXIBILITY - Swivel casters rotate 360 degrees which makes turning the mating equipment possible, is good for transporting light furniture and displays quietly and safely.
HIGH QUALITY DUAL LOCKING - Soft polyurethane caster won't mark the floor or chew up the carpet. Double lock mechanism locks both the caster and the swivel bearing at the same time, which is essential for safety.
HEAVY DUTY - 75 lbs each stem caster and 300 lbs as a set of 4. Commonly used for shopping carts, trolleys, office chair, cabinets, bookshelves, work tables, underbed storage, stands, movable furniture etc.
100% MONEY BACK GUARANTEE: If the threaded stem casters does not meet your expectations, we will refund all your money back without any hesitation.

Discover Your Best Deals Now!
Check Other Retailers

Slipstick CB693 Premium 3 Inch Rubber Caster Wheels with Brake (4 Pack) Replacement Rollerblade Style Swivel Casters with 3/8"– 16x1" Threaded Stem, Includes Mounting Hardware, Black/Clear Castor

FLOOR PROTECTING RUBBER CASTERS WITH BRAKES – Roller blade style caster wheels with brakes to stop rolling and clear soft rubber caster wheel that protects hardwood floors and all hard surfaces from damage
UNIVERSAL USE REPLACEMENT SWIVEL CASTER WHEELS – Perfect 3/8" threaded stem casters for carts, furniture, work benches, tables, kitchen cart, chairs, cabinets, trolleys, racks, dolly, desks and more (Great as replacement casters or new installation)
QUIET & SMOOTH ROLLING – Premium locking caster wheels with soft rubber tread for super smooth and silent rolling over hard surface and carpet floors plus feature 360 degree full swivel action for easy maneuverability and control (great for kitchen carts)
INCLUDES 4 CASTERS WITH BRAKE LOCKS & INSTALLATION HARDWARE – Set of 4 locking 3 Inch rubber caster wheels with threaded 3/8 Inch Stems (16 UNC), 4 stem insert nuts, 4 washers, and 4 nuts for secure attachment to furniture
INDUSTRIAL GRADE SCREW IN CASTERS – This set of 4 heavy duty swivel casters will support rolling up to 400 pounds / 100 lbs per caster (500 lbs static load capacity), are easy to install with included mounting hardware, and are covered by Slipstick's lifetime free replacement warranty

Discover Your Best Deals Now!
Check Other Retailers
As an affiliate, we earn from qualifying purchases. We get commissions for purchases made through links in this post.
Conclusion
Desk wheels are an easy way to make your desk setup more mobile and flexible. They can come in a variety of sizes, shapes, and materials and can be used both indoors and outdoors. Before you buy any desk wheels, make sure to consider factors such as the size of the wheels, their wear resistance, design features, weight capacity, noise level, and mounting hardware. With these considerations in mind, you'll be well on your way to finding the perfect set of desk wheels for your needs.