Freshen up your office carpets and keep them looking professional with this essential guide on 'How Often Should Office Carpets Be Shampooed'? Find out the best frequency for achieving a deep clean, plus expert tips for getting the job done right. Everything you need to know about office carpet maintenance is just a click away!
Clean, professional-looking carpet makes a statement about your business. It tells anyone who frequents your building that it's well-maintained. Not only are clean carpets essential to creating a good impression, but they also help protect your investment in professional flooring. In addition, clean carpet helps promote healthy indoor air quality. Who wants to be in a building with dirt, allergens, and dust mites embedded in the carpet?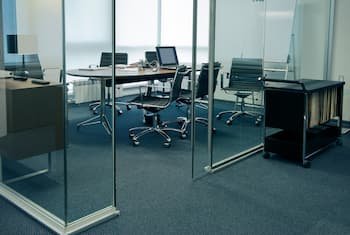 There are a few things to keep in mind when asking yourself how often should you clean office carpets and be shampooed.
Table of Contents
Get Ready for a Deep Clean – Follow These Tips on 'How Often Should Office Carpets Be Shampooed'
Keeping your office carpets clean is vital for maintaining a professional and healthy work environment. But how often should they be shampooed? To get the best results, follow these essential tips on 'How Often Should Office Carpets Be Shampooed'. Learn when to shampoo, the right frequency and products to use, and more to ensure that your office looks its best!
Determine Your Carpet Cleaning Schedule
The Carpet and Rug Institute (CRI) recommends a professional carpet cleaning or deep cleaning every 12-18 months. However, some buildings need commercial carpet cleaning and shampooing of their carpets more frequently.
Here are some considerations on When to Shampoo Office Carpets:
What type of carpet do you have? If your carpet is thick, dirt and grime can more easily become trapped. If you have a light-colored carpet, it will show dirt faster than darker colors.
How much foot traffic takes place? What are the traffic patterns? In which areas? It's essential to assess and take into consideration the busiest areas of your building. Certain spaces and rooms might require more frequent cleaning. For example, a conference room used for large, daily meetings will need more regular cleaning than a small closet that is rarely accessed.
How old is the carpet? Worn carpet often has broken down fibers in which dirt can become more easily lodged. Older carpets usually need more frequent cleaning than newer floor coverings.
What is the nature of your business? Is the carpet located by doors or busy entryways? Dirt, mud, slush, snow, and sand can easily get tracked into your building. This is why building professionals recommend the use of mats by entranceways. Fifteen linear feet of matting at each doorway allows for the capture of most dirt before it reaches your main carpet.
How well do you care for the carpet? How often you vacuum, with what equipment, and how you deal with spots and spills also impact how often you need to have your carpets professionally cleaned and shampooed.
How many hours per day is your business open? If you are a 24/7 business, your carpets will experience more foot traffic and wear and tear vs. if you are only open several days per week and/or for limited hours.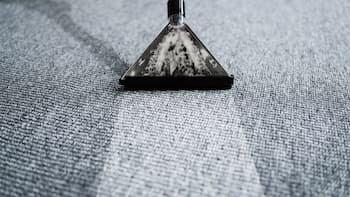 After considering these factors, work with your professional carpet cleaning company to determine a regular cleaning and shampooing schedule. That might mean every six months, once a year, quarterly, or even monthly.

Certain areas of your space might be on a different schedule. Stay on that schedule ‒ don't assume the carpet that "looks clean" doesn't need to be scrubbed. Develop a deep cleaning schedule and stick to it.
Caring for Your Carpet Between Cleanings
The most important thing you can do to care for your carpet in between cleanings is regular vacuuming, using a high-quality commercial vacuum cleaner.
How often should you vacuum? Daily vacuuming for highly trafficked office carpeting areas such as ground floor halls, and every few days for other areas. It's also important to vacuum regularly entrance mats, preferably daily.
Not only does vacuuming remove dirt, germs, and other debris, but it also removes traffic patterns so high-traffic areas will not become matted down. Use a wet vacuum cleaner to extract water throughout the day during periods of snow, rain, or when mud gets tracked in.
It's also vital to address unsightly stains and spills as soon as they occur ‒ don't wait for your regularly scheduled cleaning.
If a spill occurs, take the following steps:
Carefully blot the spill with a paper towel, taking care not to rub it in.
Apply a spot cleaner, working from the outside in to avoid spreading the stain.
Let the spot dry thoroughly before anyone walks on it.
Use a thick white towel to help speed the drying process, if necessary, and to brush back the carpet fibers to their natural standing position.
Make a record of the spot so your professional carpet cleaner can examine it during their next regularly scheduled cleaning
Shampooing as a Cleaning Method
There are various methods of carpet cleaning. Shampooing followed by steam water extraction is one of the most powerful methods for cleaning deep-down dirt.
Extracting debris and removing dirt with steam water, commonly called steam cleaning, is done by applying hot water to carpets with a high-pressure wand to dissolve mud, dirt, dust, and other contaminants. This process allows the debris to be more easily removed from the carpet and gives your carpet a fresher look and a softer feel.
Shampooing the carpets is done with the use of specialty detergents and lots of water. This deep cleansing practice can be particularly useful for cleaning carpets that have not been well-maintained. Shampooing with rotary brushes helps remove layers of surface soil, while extraction will pull up deeply embedded dirt.
If the carpet isn't located too far from the doors, your carpet cleaner can use truck-mounted steam extraction equipment. If that won't work, portable units are an option.
Best Times to Clean
After your carpet is cleaned and shampooed, you want to keep traffic off it until it dries, which can take about six hours. It's probably best to schedule carpet cleaning after regular business hours. Still, if you operate late into the evening or are a 24/7 business, you can plan for your cleaners to come at night or during your least busy time.
The setting up of equipment coupled with the drying time can take longer than the actual cleaning and shampooing. In some cases, if you cannot afford business disruptions, a quicker dry-foam shampooing process might be a possibility between water extraction cleanings.

Talk to your professional carpet cleaner to see if this is an option in your particular situation.
Protect Your Investment
No one wants to do business in an unsightly building. Frequent vacuuming your carpet, cleaning up spots and spills when they happen, and having your carpet cleaned and shampooed professionally on a consistent schedule, prolongs the life of your carpet, protects your indoor air quality, and projects a professional business image.