Are there actually fake Aeron chairs in the market?
Well, the simplest answer to this question is No. The Herman Miller popular brand contains different versions of the Aeron chair but you can not say it is a fake Aeron chair. The brand manufactures chairs with a lot of features including adjustable lumbar support.
To know more about this brand and the chairs it produces, this article will accommodate you. Let's begin with the guide.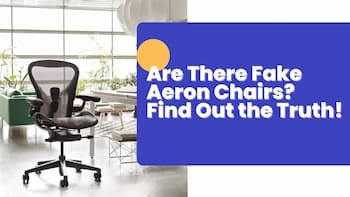 How to Spot a Real or Fake Aeron Chair – Herman Miller
Table of Contents
What is Herman Miller Aeron
Herman Miller is a well-known brand that started producing Aeron chairs in 1994 and since then, there is no way back for this brand. The features it contains force people to have one. It is quite common in offices where the workers have to sit for so long.
This chair is mostly used as an office chair due to its comfort and support. However, people have noticed that many other companies have started manufacturing fake Herman miller Aeron chairs since their popularity. How much this news is authentic will be discussed below.
Are there fake Herman Miller Aeron chair products?
You might have seen many people claiming a chair as a Herman Miller Aeron chair, but in reality, the chair itself is nothing but discarded furniture from a different brand and mainly a base model without any feature.
Many people consider base versions of Herman Miller chairs fakes. This is because we usually get very adjustable models everywhere, especially in ads. Many people don't know what Herman Miller chairs look like.
How to Identify Real Fake Herman Miller Chair Product
There are a few steps you have to consider in this regard. They include:
1- Check the product Logo
These are Herman Miller logos found on all Herman Miller products. This mark also confirms the chair's Herman Miller heritage. On a Herman Miller Aeron chair, a logo is engraved into the backrest. Please take heed.
2- Look for the Label
Every authentic Aeron-style product comes with a label so before buying it, ensure that it has a label attached to the product. It is usually attached to the underside of the chair so that you can clearly see it. If it doesn't have any label, the product is not authentic.
3- Look For The Certificate Of Authenticity
The chair's box contains an authentic certificate. Sometimes the medallions are attached to the underside of the seat, which identifies their authenticity for every genuine Herman Miller product.
4- Check the Specifications
You can never find similar features in 2 chairs so to ensure the real deal for every used Herman Miller Aeron chair, check the specifications. If it matches then this is the real one. Hence, before buying this comfortable chair, brace yourself for all the attributes the original chair contains.
These are the four features that you should always keep in mind before making a purchase of this perfect chair.
What makes the Aeron such a comfortable and awesome chair?
There are many reasons why the Aeron is so cozy.
Tilt Limiter and Adjustable Seat Angle
This is a feature that provides comfort and great balance while sitting and reclining. The tilt limiter allows you to increase and decrease the height when leaning back and increase the tension needed in certain positions.
The forward tilt feature is a rarity in an ergonomic chair, which allows a person to turn the seat five degrees in a different direction. It helps reduce the weight of the upper and lower body when the muscles are leaning forward for work, this is mainly for typing.
Eight tension zones
The Aeron has eight stress zones called 8Z pellicles which span all of the seats and It provides the right balance of support for the various parts of your body that touch the seat. It's a great way to stay seated for long at Aeron and not be tired.
Caster Glide Options
These chairs are available with a variety of casters for carpet and hard floors. It features a range of features and quiet-roll technology.
Pivoting Armrests
The Aeron chair armrests are exceptionally well-padded. The latter is a crucial ergonomic feature that most lower-priced chair lacks.
FAQ – People Also Ask
How can you tell this Aeron chair is fake?
All classic designs come with certificates of authenticity. A few also include medallions that confirm authenticity. Your products can contain the labels you have. In chairs, these are often placed beneath the seat.
How can you tell if a Herman Miller chair is authentic?
The authentic Herman Miller Aeron Chair includes an official Herman Miller logo certificate and additional medallions. See the manufacturer's label beneath swiveling seats to determine the swiveling model.
How do I identify my Aeron?
There are a few steps that you have to consider in order to identify a fake chair. Check the product logo and ensure that it has a label attached to it. Moreover, make sure the specifications are the same found in the actual chair including lumbar support, etc.
Are There Herman Miller Aeron Knockoffs?
Many people claim it but in reality, there are no Herman Miller knock-offs.
Are Herman Miller Chairs Made In China?
It is an American company and all its activities have been performed in the United States. In 2007, they originated one of their factories in China. China's manufacturing plant also produces these chairs.
Final Thought
Aeron chairs are so common that there is not a single person who doesn't know about this brand and the chairs it manufactures. It is normally used as an office chair due to all the support it provides to the arms and lower back. You can never find bad reviews about this product.
There is no fake Aeron chair exists but most people have complained about this issue. It might be because they have purchased cheap alternatives. However, I have mentioned a few points that will depict whether your chair is an original authentic Aeron and how to spot a fake Herman Miller chair.
I hope this guide will help you identify the original one. Get your hands on this chair if you want to get full comfort while working.
Also Read: Are Office Chairs Better Without Arms – Which is better?