We all know the feeling. You're out and about, and your phone dies. Rather than being forced to search for an outlet, wouldn't it be great if you could just juice up your phone quickly with a wireless charger?
Wireless chargers are sometimes also called power banks or battery packs. Check out this list of 9 fast wireless chargers that can help you do that!
To clarify, a wireless charger can mean two things. 1) it wirelessly charges your phone, there is no cord connection between your phone and the wireless charger. You simply set your phone on it. This only applies to certain phones and devices, plus it works only with certain phone cases. Like this: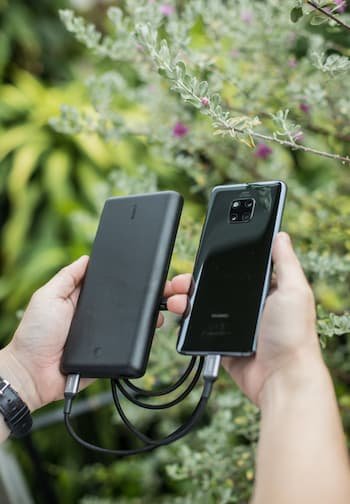 But it can also mean, 2), that it is a power bank which is originally charged from a wall plug. It is portable and you plug your phone or device into it later when you need power. Like this: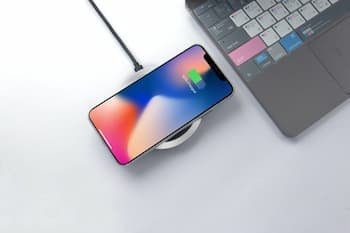 What to look for in a wireless charger
There are many different types of wireless chargers on the market. When looking for a wireless charger, you'll want to consider the following:
· The type of device you're charging – Some chargers are specific to certain devices or brands, while others are more universal.
· The speed of charging – Not all chargers charge at the same speed. Some are designed for fast charging, while others are more suited for slower charging. Plus, not all phones are equipped with rapid charging abilities. A rapid charging wireless charger should only be used for devices whose manufacturer states it can be charged with a fast charger.
· The size of the charger – Not all chargers are created equal in terms of size. You'll want to consider how much space the charger will take up and whether or not it will be convenient to use. Some are perfect for sticking in your backpack or purse, while others are great for at the office.
· The design of the charger – Some chargers come in funky shapes and sizes, while others are more minimalist in design. Consider what style you prefer.
· Compatibility with your phone or other devices – Make sure that the charger you purchase is compatible with your device. There are a few different wireless charging standards (Qi, PMA, etc.), so make sure you get one that will work with your phone or tablet.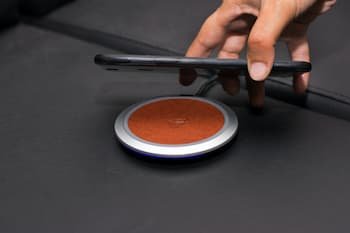 How to choose the best wireless charger for you
When looking for a wireless charger – and we're not talking about power banks at the moment – , you'll want to consider the following:
1. Charger type – There are two types of chargers – the wireless charging pad and wireless charging stand. Charging pads are smaller and easier to carry around, but they may not be as sturdy as a charging stand.
2. Charge speed – these chargers come in different speeds. Some can charge your device quickly, while others are slower. It's important to consider how fast you want your device to charge, and if it is capable of that, when looking for a wireless charger.
3. Compatibility – Not all wireless chargering pads or wireless charging stands are compatible with all devices. Make sure the charger you choose is compatible with your device before purchasing.
4. Size – Wireless chargers come in different sizes, so it's crucial to consider how much space you have available before purchasing one. Plus, some wireless charging units have the capacity to charge multiple devices at a time, while some will only charge one.
5. Price – a wireless charging stand or wireless charging pad can range in price from $10 to $100 or more. Consider what features you need and what you're willing to spend when choosing a wireless charger.
The best wireless charging stand or pad for you will depend on your needs and budget. Some good options include the Belkin Boost Up Wireless Charging Pad, the Anker PowerWave Pad, and the Samsung Wireless Charger Duo.
Which wireless charger is right for you?
When it comes to technology, there's always something new and improved waiting in the wings. And when it comes to chargers, the options for wireless charging are now more popular than ever. So, which one is best for you? 
Chargers can be broken down into a few main categories: charging stands, pads, and adapters. Charging stands are the most popular type of charger and are compatible with most devices. They usually have a rapid charging option and come with a wall plug for easy use. Pads are less common but can be useful if you have a lot of devices to charge at once. They work with most smartphones and tablets and come with a micro USB cable. A power adapter is used to convert wired chargers to wireless ones and work with any device that supports wireless charging. 
There are many different chargers on the market, so it can be difficult to decide which one is right for you.
How did we choose these wireless chargers?
Wireless chargers are slowly becoming more popular as technology continues to develop. There are a few different types of chargers, but the most popular and basic is the Qi wireless charging pad. This type of charger uses induction to create a charging field between the pad and your device. To use it, simply place your phone on the pad and it will start to charge. Some newer Android phones have built-in Qi charging, but for most other devices you'll need a Qi-enabled case or receiver.
We chose these wireless chargers based on their ability to charge your device wirelessly. The wireless charger is a pad that uses 1 or more coils to create an electromagnetic field. This field can then be used to charge your device wirelessly. Qi is the most common standard for the fastest wireless charging, and all of these chargers are compatible with it. We also considered the amperage of the charger, as well as the size of the pad.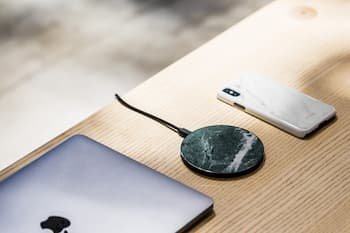 Can I wirelessly charge my phone while on the go?
Yes, you can wirelessly charge your phone while on the go. Wireless charging is becoming more and more common, and there are a number of ways to do it. Many newer cars have wireless charging pads built in, so you can just set your phone down on the pad and it will charge. You can also buy portable chargers that you can take with you and charge your phone anywhere. There are advantages of wireless versus wired charging also, read on to find out more about wireless power.
Does your phone support fast charging?
Your phone may support rapid charging. One way to find out is to check the specifications of your phone or charger. Another way is to try using a fast charger with your phone, if it is rapid charging capabilities, it will do so. If not, it will charge as normal. For example, an iPhone 8 can be charged with a fast charger with a USB-C port. Some wall chargers come with both a USB-A and USB-C port, which can be used to charge phones that support rapid charging.
If your phone doesn't support this, you may still be able to use a fast charger by purchasing a compatible adapter. Dual port chargers can also be used to charge two devices at the same time. Qi chargers are another type of wireless charger that uses magnetic fields to create an electrical current through the air and charge your device.
Is using a fast charging wireless charger safe?
While wireless charging is becoming more and more popular, there are still some safety concerns that users have about using it. In general, these chargers are safe to use, but there are a few things to keep in mind.
For one, make sure that the charger you're using is certified by the Wireless Power Consortium (WPC). This is the organization that sets the safety standards for wireless charging. Chargers that bear the "Qi" logo have been certified by the WPC.
But overall, wireless charging is a safe and easy way to keep your devices powered up.
What is wireless fast charging?
Wireless rapid charging is a method of charging your devices without the need for cables or plugs. Instead, a wireless charger uses electromagnetic induction to transfer energy from the charger to your device. This means that you can simply place your device on the charger and it will begin charging automatically. Wireless fast chargers are becoming increasingly popular as they offer a more convenient way to charge your devices.
When researching a phone – or simply trying to figure out if your current phone can wirelessly charge – head over to gsmarena.com and search for your phone. Scroll to the battery section and look for if Wireless (MagSafe) or Wireless (Qi) are listed. If they are, congrats! Your phone will work with a wireless charger. If not, you will need a Wireless Charger Receiver.
The Apple MagSafe charger is specific to Apple products, including the Apple watch. A MagSafe charger is simply a magnetic wireless charger. The Apple magnetic wireless charger works with the iPhone 14, iPhone 14 Pro, iPhone 13, iPhone 13 Pro, iPhone 12, and iPhone 12 Pro and provides faster wireless charging up to 15W. The MagSafe Charger maintains compatibility with Qi charging, so it can be used to wirelessly charge your iPhone 8 or later, as well as AirPods models with a wireless charging case, and any compatible Apple watch, as you would with any Qi-certified charger.
Apple does provide a specific Apple watch charger for the Apple watch. An Apple watch can use a MagSafe charger that is for iPhones. Wireless charging units are pretty versatile, so don't think you need a specific one for each device you own. The Apple MagSafe charger can charge iPhone 8 and up, as well as your Apple watch, and AirPods. The best chargers are ones that will work the best for you…without all kinds of hassles.
Android phones use qi chargers – it's the universal standard for wireless charging. Wireless charging is available in many Android phones, including brands such as Google, Huawei, Nokia, OnePlus, Samsung, Sony, LG, Xiaomi, and more. We'll list a few of the best wireless chargers below.
Top Chargers to Charge any Phone from iPhone to Samsung or Other Android Products
Chargers are a necessary part of any smartphone, and with so many different types of smartphones on the market, it's important to have the right charger. The list below features some of the best chargers for iPhone and Android products. If you are an Otterbox fan, they do provide a charger called the OtterBox Otterspot Wireless Charger, but sadly it's only offered on their website.
This is one of the best rapid charging, multi-device chargers as per Amazon's Choice. It is an Apple Magsafe charger and can charge iPhones, Apple Watches, and Apple's wireless earbuds AirPods up to 33% faster with up to 15W. This particular one includes a 40W AC power adapter. Plus, with a 2-year warranty, how can this not be listed as one of the best wireless chargers?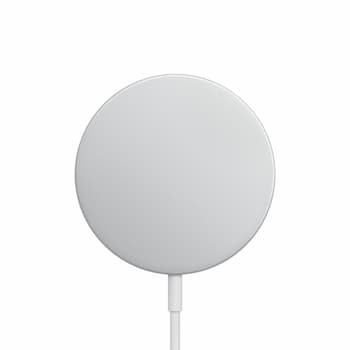 The official Apple MagSafe Charger. Compatible with iPhones, Airpods, and Apple Watches. This round, slim, charger is one of the best wireless chargers for minimalist people.
It maintains Qi charging, so can be used with iPhones 8 and up, as well as AirPod models which have a wireless charging case. The 20W USB-C power adapter is recommended. Apple also offers an Apple MagSafe duo charger option.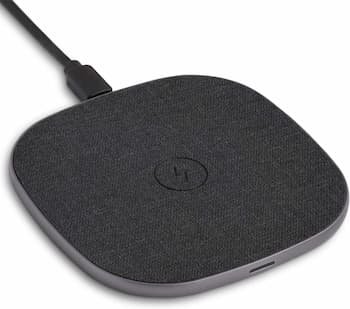 Have both iPhones and Samsung phones in your house? Then you'll enjoy this option! The Totallee Wireless Charger is compatible with both iPhones and Galaxy phones which have Qi wireless support. With up to 10W, this particular charging pad can save you 30-45 minutes in charging time. Its slick, lightweight, minimalist design makes this perfect for almost anyone. Unlike other wireless chargers, the Totallee boasts foreign object detection to prevent overheating and short-circuiting.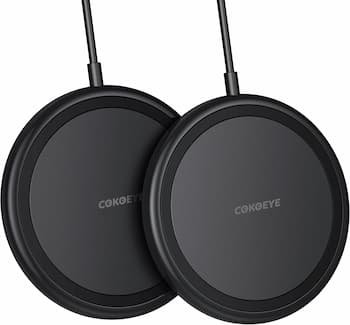 A 15W high-speed charger which is compatible with both iPhones and Samsung phones, this charger is small and easy to miss. Perfect if you're looking to have something that doesn't draw attention. With its built-in smart chip providing foreign object recognition, overheat protection, over-current protection, over-voltage protection and short-circuit protection, you don't need to worry about charging your phone on your nightstand overnight, or on your desk all day at work. Plus, the non-slip design keeps your device put.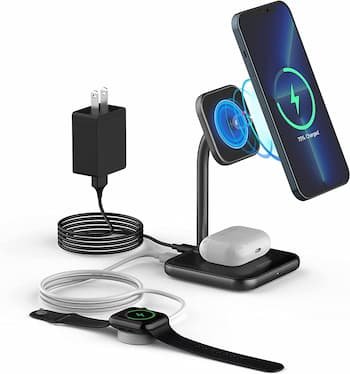 This wireless charging stand can charge your iPhone 12/13 series, Watch and Airpods all simultaneously. A USB c cable is included. It is important with this particular wireless charging stand to use MagSafe cases only, as all other cases including thin ones will not work with this stand. Also note that Qi charger isn't listed in the connectivity list.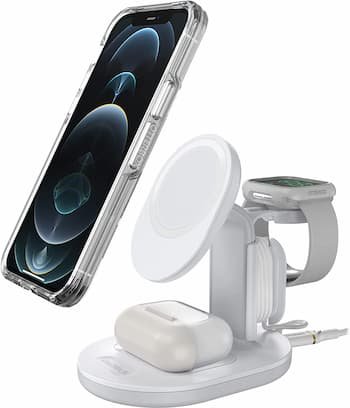 This compact, space-saving, multi-device charging station wirelessly charges iPhones, Airpods, and integrates with the Apple Watch charger. Its sleek design with a wonderful fingerprint-resistant finish fits into any home or office environment. The strong magnetic field suspends the phone in portrait or landscape position – so you can charge your phone and enjoy using your phone at the same time. *Apple Watch charger sold separately. A USB-A to USB-C adapter is needed to support Apple Watch Series 7, and only wireless charging capable AirPod cases are compatible.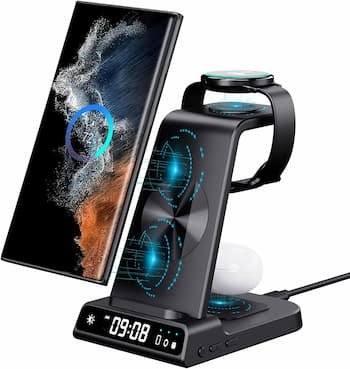 A compact, wireless, Andriod-compatible station with a built-in digital clock. Perfect for beside your bed, the clock has three levels of dimness and 12 or 24 hour options. The tidy charger is compatible with many Samsung phones, Galaxy Watches, AirPods, iPhones, and some Google Pixel phones. Highly adaptable with Multifunctional Intelligent Protect Technology provides temperature control, surge protection, and short-circuit prevention. Not only that, it is also made with fire-resistant ABS material and the smart chips inside recognize & offer specific charging efficiency for different devices. Comes with a Samsung charger, a QC 3.0 Adapter, 1 Type C cable, and of course, a user manual. Check the list on Amazon provided to see if your phone will charge with this station!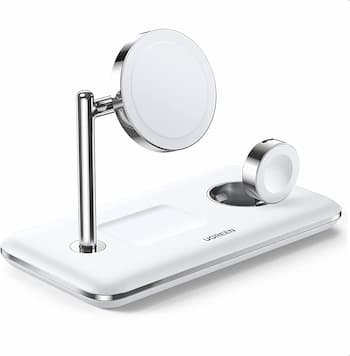 MagSafe, Qi, and USB connection in a modern design! This MFi-certified charger provides you with faster and safer charging for your Apple products. A truly fast charger with 3-in-1 25W rapid charging capacity, this charger does everything at once! 15W for iPhone 14/13/1 MagSafe series, 5W for Apple Watch Ultra series, and 5W for AirPods Pro series. Plus, it can also charge other Qi-enabled Wireless Bluetooth Earphones.
Charge 3 devices with one cable. Not only can this charge your phone, use it as a hands-free stand with its strong magnetic charge area. Take on vacation to keep everything neat, tidy, and organized. Keep your desk and office messy-wire free! This one definitely belongs on the best wireless charger list.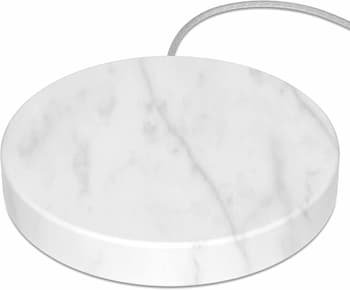 If you're not into the sleek, modern, or steel looks, here is a Qi charger for you! Check out this absolutely gorgeous, white marble charger from Einova with its braided cable. Crafted from real, solid rock with an Italian design, it's made to quietly fit into your home's aesthetics while doing an amazing job rapid charging your devices. Simple, effective, and intuitive to use with no extra buttons, lights, or plastic. Using Eggtronic's patented wire-free charging technology for fast, protected, and safe charging. Fast 10W charging and compatible with all Qi-enabled devices, including Samsung and iPhones.