Are you a small business looking for the best office phones? With so many options to choose from, it can be daunting. From landlines to VoIP and Cloud-based systems, there are important differences you should know before making a purchase. Get the most bang for your buck with our guide on the best office phones for small businesses, complete with advice on all the features to look out for.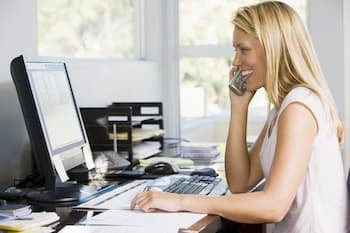 VoIP phone systems offer major savings for small businesses, as they only pay for the calls they make – reducing their monthly bills by up to 90%. With no additional charges or fees required, small businesses can take advantage of the cost-saving benefits of VoIP phone systems. Make sure to research all your options to find the best one that meets your needs and budget.
VoIP phone systems are being used by more and more small businesses.
Table of Contents
Things to consider when buying a phone
So you are looking for the best business phone system, and it's a bit confusing. There are a lot of different types of phones, and you have to decide if you want a system that is only for your office, or if you want a system that is for your office and your purchase should be based on your needs. You should consider what type of phone you want, the cost, the size, the features, and the phone company.
Find out what your business needs are
Office phones are an essential part of the workplace, but they vary in functionality. There are many different types of office phones to choose from, and the type you purchase should be based on your needs.
For instance, if you need an office phone for a small business or home office, a traditional desktop phone may be the best choice. If you have a large office and customers will be using your phones, a key system may be a better fit. This guide will help you decide which type of phone might work best for your needs.
Also worth reading: Discover the best office headset for working

Also Read: Best green screen backgrounds for chroma key photography and streaming

Also worth reading: How To Find the Best Monitor Arm Mount for a Desk or Workstation
Types of office phones – Best Office Phones for Small Business Reliable Connections
Desk Phones 
A desk phone is a traditional telephone that sits on a desk or other surface. Traditionally, these phones have a base and a handset and are usually corded phones or can be cordless handsets or cordless phones. You can use this phone to make and receive calls. Some desk phones are used only for calls and do not include features for sending text messages or receiving instant messages or have a built-in digital answering machine.
These phones may include features that allow you to make and receive calls to and from a PC, such as a handset that plugs into the PC via a USB cable. 
A phone can provide the same functionality as a PC connected to a phone line, but it has a number of advantages:
Desk-corded phones are familiar to users and can be configured in the same way as ordinary desk phones. Users don't have to learn a new interface.
The integration of a phone with the PC gives the user the option of using a phone that supports features that are important to the user, such as call waiting, call forwarding or a headset.
Video Phone
Video Phone office phone is a type of phone that is a hybrid of a phone and a webcam. This type of phone is used to make video calls to other people. It is a video phone that allows people to see each other while they are on the phone.  This phone is a very useful tool for businesses and families.
The first common video phone was made by AT&T. It was released in 2008 and cost $ 1000! In the year 2012, Apple made the first video call over the internet. It was called FaceTime.
Nowadays video calls are very popular and most people just use their cell phones for them. Smartphones are very helpful tools for businesses.
VoIP Phone
VoIP phone for the office is a type of phone that is used to make and receive phone calls over the Internet (Voice over Internet Protocol). It has a built-in speaker and microphone with a handset that can be used for hands-free conversations.  The use of VoIP technology in the home office is becoming a popular choice since they have a number of advantages over the traditional small business phone. The VoIP phone, also known as a VoIP terminal and works like a regular phone in that it can make and receive telephone calls.
However, instead of the calls being routed over the public network, they are transmitted over an internet connection or a private network.
The VoIP phone can be connected to the same phone jack that is currently being used for a wired phone. VoIP phones come with a range of features that can help users easily integrate them with their existing phone jacks. These features typically include:
Diversity and noise-canceling microphone
Echo cancellation
Call waiting
Call forwarding
Call transfer
Conference calls
speed dial
Digital answering system
multiple lines
Caller ID
Bluetooth connectivity
The device has integrated WiFi for communicating with the Internet and for allowing your mobile devices to connect to its WiFi as well. The WiFi is integrated, so you don't have to worry about getting a WiFi adapter.
Conference Phone
The conference phone is a type of phone that is used to make and receive phone business calls. It is a device that is used in offices to allow people to talk to each other without the need to be in the same room. It is a phone that can be used with a speakerphone or a headset. It is a phone that has the ability to switch between the two modes of phones. It is a phone that is commonly used to conduct meetings because it can be used either with a speakerphone or a headset. 
The conference call ability is another feature that makes it a very good device. Having good audio quality and speakerphone capabilities is a must for this conference calling feature though.
Buying any small business phone systems can be a bit confusing
When you're looking for a phone system for your office, it's a bit confusing. There are a lot of different types of phones, and you have to decide if you want a system that is only for your office, or if you want a system that is for your office and your customers. 
In addition, you have to make sure that your phones are compatible with the phone system of your company. When you make all of these decisions, you need a good system that will work for you.
You should look for a system that can use a USB headset. This would be great for you because you will have a headset for your computer, and your office phone system. You will not have to buy two sets of headsets, and you will have the ability to make two-way conversations with the use of a single USB headset.
9 Best Office Phones for Small Business Cost-Efficient Solutions
The best business phone system is an important decision for any business. When you don't have a large budget, it can be difficult to figure out which phone system is right for you.
Luckily, there are some great options that are perfect for small businesses. Here are a few of our favorites.
Image
Product
Features
Price

AT&T TL86103 2-Line Corded/Cordless for Small Business with Answering Machine, 2-Mailboxes, Connect-to-Cell, Caller ID Announcer, Intercom, Line-power, Long Range & Expandable to 12 Handsets

Perfect Phone for Work from Home & Small Office - With up to 1,000 feet coverage and connects up to 2 cell phones and 2 landlines, this phone system lets you make and receive calls from your landline or cell phones with ease using either the cordless or corded handset.
Connect-To-Cell - By connecting to your mobile phone with BLUETOOTH-enabled technology, this system allows you to make and receive calls from your cellular plan and landline while enjoying the comforts of a home phone system, with or without a landline. Download up to 6,000 cellular phonebook entries onto the cordless handsets.
Digital Answering System with 2 Mailboxes - With up to 22 minutes of recording time in each mailbox, the digital answering system grabs calls when you can't and stores the messages in 2 separate mailboxes. Ideal to keep business and family messages separate.
Reliable Corded/Cordless Design with line power mode - The corded base has fully equipped with a large backlit display, speakerphone, big buttons keypad for ease of use. The Line-power mode ensures communications using the corded handset during any power outage.
Charge your cell phones - With 2 built-in USB ports on the base lets you charge two cell phones at the same time, all the while allowing you to use any of the phone system handsets to make or receive calls from anywhere in the home
Cordless Handset equipped with thoughtful details facilitate you to work anywhere at home: Speakerphone; Belt clip; 2.5mm headset jack (headset not included); Push-to-talk button

Discover Your Best Deals Now!
Check Other Retailers

AT&T CL83207 DECT 6.0 Expandable Cordless Phone with Smart Call Blocker, Silver/Black with 2 Handsets

Digital Answering system with voice guide records up to 22 minutes
HD audio with Equalizer for customized audio. Expandable up to 12 handsets (uses CL80107 accessory handset)
Backlit keypad and high-contrast LCD
Caller ID records past 50 names and numbers
Smart call Blocker saves up to 1, 000 names and numbers

Discover Your Best Deals Now!
Check Other Retailers

AT&T CL84107 DECT 6.0 Expandable Corded/Cordless Phone with Smart Call Blocker, Black/Silver with 1 Handset

1 cordless and 1 corded Handset, expandable up to 12 handsets
Digital Answering system with voice guide records up to 22 minutes
50 Name and number Caller ID history
High-contrast Backlit LCD and lighted keypad
Compatible with AT&T cordless accessory speakerphone and AT&T cordless headset
Experience the best in long-range coverage and clarity, provided by a unique antenna design and advances in noise-filtering technology.

Discover Your Best Deals Now!
Check Other Retailers

Mission Machines S-100 Business Phone System: Advanced Pack - Auto Attendant/Voicemail, Cell & Remote Phone Extensions, Call Recording & Mission Machines Phone Service for 2 Month (4 Phone Bundle)

This Bundle can connect to 8 standard telephone lines by using an optional Analog Telephone Adapter (ATA) - Sold Separately. Lines by Verizon FiOS, AT&T, Altice, Century Link, Time Warner, Frontier, Comcast, Spectrum, Cable One etc. when connected to the optional ATA.
This S-100 Advanced Pack is Server-Based but the same Advanced Pack can also be Cloud-Based when used with our Z Cloud-Based phone systems. Please contact us if interested in Cloud-Based systems.
The S-100 server supports up to 20 simultaneous conversations (incoming and/or outgoing Calls) and up to 50 extensions. The S-100 server comes with 2 Year software and hardware warranty.
This Advanced Pack Includes 2 months of VoIP service for 4 Lines, simultaneous conversations. After the initial 2 months of included service, pay $50 for the first 2 lines and $25 for each additional line. Unlimited calls anywhere in US and Canada.
No contract required. Cancel anytime – no penalties. Port your existing number or we can assign a new number for your business.
Guaranteed 100% customer satisfaction. US-Based sales and support and a 60-day 100% money back, no questions asked.
The Advanced Pack includes all features at no additional cost - features like voicemail to email, Multi-Layer auto attendant, flexible ring groups, directory assistance, call recording of calls (all calls or per-call) are just a few of the popular standard features.
Soft phone (using cell phone App) extensions - any cell phone can be used as an extension of the S100 server at no additional monthly fee. Work Remotely from Home or a remote location, the Cell Phone extensions (as well as the Advanced Pack extensions) will work anywhere they are located and function accordingly and flawlessly.

Discover Your Best Deals Now!
Check Other Retailers

Ooma Office 2615W Wi-Fi Business IP Desk Phone. Works only with Ooma Office Cloud-Based VoIP Phone Service with Virtual Receptionist, Desktop app, Video conferencing. Subscription Required.

Enjoy efficient business communications using this high-end IP phone that features a suite of next-generation features. Includes integrated Wi-Fi, Bluetooth support, 40 programmable buttons, an available extension module, dual Gigabit ports and a large 4.3 inch color LCD.
If your work environment gets loud at times, you'll appreciate this phone's noise shield technology to reduce background sounds. That, coupled with Ooma's VoIP technology, will make sure your calls are crystal clear.
This phone only works with the award-winning Ooma Office phone service. Plans start at $19.95/user/month and include 50+ features. Upgrade to get features like Videoconferencing, Call Recording, CRM Integration and more.
With Ooma Office, you can select a new phone business number or keep an existing one. Give your business a nationwide presence with a toll-free number—it's free and includes 500 minutes of inbound calls each month.
The versatile Ooma Office service can expand as your business grows. Add new phone lines without needing to hire an IT tech. You can also communicate seamlessly with employees at your other locations and those working from home.
Download the installation guide in the support section below so you can activate your Ooma Office account and make calls within minutes of opening the box. If you ever need help, support is available 24/7 via phone or chat.

Discover Your Best Deals Now!
Check Other Retailers

Motorola ML1002D DECT 6.0 Expandable 4-line Business Phone System with Voicemail, Digital Receptionist and Music on Hold, Black, Base Station + 2 Wireless Desk Sets

Includes base station, wireless deskphone and wireless handset
Set up is easy, simply plug the base station in to a phone jack and wirelessly connect the two wireless desk phones
For use with up to 4 lines with extension status indicators and call transfer capabilities
Expand your system with up to 10 phones by purchasing either the ML1100 deskphone or ML1200 cordless Handset
Features full-duplex speakerphone, 6-way conferencing, digital receptionist, digital answering machine and more

Discover Your Best Deals Now!
Check Other Retailers
As an affiliate, we earn from qualifying purchases. We get commissions for purchases made through links in this post.
In conclusion, the best office phones for small business home offices vary depending on your budget, needs, and preferences. Ultimately, you'll want to look for a phone that offers features like call forwarding, multiple lines, loud volume levels, and excellent call quality.
Additionally, make sure the phone is compatible with your existing network or VoIP provider. By selecting the right office phone for your small business home office you will have an easier time staying connected with clients and colleagues while working remotely.