Are you tired of feeling uncomfortable and cramped while sitting at your desk for hours on end? It's time to address the elephant in the room: how much leg space do you need for a desk? Having insufficient space beneath your desk can not only be uncomfortable but can also hinder your productivity and focus. So, let's dive into the world of desk leg space and discover why it's important for your workspace, and how to ensure you have enough room to stretch those legs.
What is a workspace without a desk? Desks play an extremely important role in any type of work situation: corporate or home office space alike. We believe all of us know what a desk is, but for the benefit of the doubt, let's give a formal definition.
A desk is a metal or wooden table with a flat top that is convenient for writing and reading. Most desks come with a drawer, or some kind of repository underneath (depending on the design).
That being said, so many debates have been triggered as to how much room for leg space is recommended for a standard desk, thus, the question "How much clearance do you need for a desk?"
We will say that it all depends on the size and purpose of the desk. This is why in this article, we will be hinting at the standard desk space measurements, types, and different leg space for different desk purposes, especially in a workstation home office environment.
Table of Contents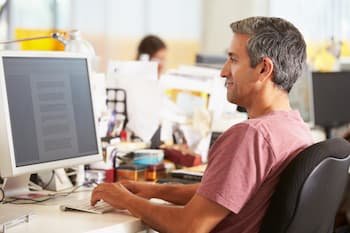 Standard Leg Space for a Desk
One can hardly maintain a specific leg space for a desk. It all depends on the purpose, size, space, and arrangement of the space. The common large desk in use may have a minimum height clearance that measures 29-30 inches tall. A built-in desk will have the same basic dimensions and minimum width and height clearances as a freestanding desk.
Also used are 72, 60, and 48 inches wide desks, while the deep is measured at 36, 30, and 24 inches. It is really important to understand the size of the users, which will enable you to determine the perfect leg space for the proposed desk. Nevertheless, one can't just pick a universal standard leg space for every desk.
For users that measure 6.5ft or 5ft tall in height, the office desk should be between 712-762mm, with a leg space of (between) 24 cm and 21cm respectively. That way, one can comfortably sit on the normal task desk chair. Always be sure to leave a clear space in which to maneuver your desk chair. A file cabinet needs enough room that you can open its drawers fully.
But in most cases, some office desks are around 730mm high and are recommended for others as well. The minimum depth clearance at knee level is 18 inches. You don't want your knees to hit your desk when sitting.
But if you are so tall that you hardly get the right leg space to feel comfortable, we advise you to go for adjustable desks.
Types of Desks – What is a good size for a desk?
As we earlier stated, the amount of leg space required depends on the type and purpose of the desk. Now that you know the minimum dimensions, it is time to pick out your perfect desk. Some common types of desks include:
1. The Hemnes
This type of desk comes with two drawers, which is best for keeping office documents; it is also recommended for schools. The back of the desk is somehow sealed for the sole purpose of hiding lamp cords or electronic chargers. The desk is wide enough to be used as a workstation and has this low-lying height. It also comes 47.25 inches in width and 29.5 inches in height.
2. The Celine Desk
This is a vintage-like wooden desk designed with a single drawer, tapered legs, and an open cubby. It measures 21.75 inches deep, a height of 29.75 inches, and 43.5 inches wide. The recommended Leg Space for this desk is 5cm.
3.  Eames Desk Unit
This 1952-inspired desk serves both office and residential purposes. The Eames desk unit measures 28 inches in depth, 29 inches in height, and 60 in width. It is made of wire, steel, and plywood; It has a back panel, a drawer, and a colored side. Because of its suited office nature, and the presence of steel, we recommend a leg space of 27cm (depending on your height).
What Your Desk Should Look Like
What your desk should look like depends on what your choice of office design. If you need to set up a computer on your desk, you may want to measure how much space all of your equipment will need and the correct way to set up a computer desk. The depth of your desk is vital when it comes to ensuring you have enough space to be able to work while providing adequate room for the equipment you need.
If you are into a single workstation that used to have a very comfortable desk height and layout and is recommended for a one-person home office, we recommend you have a 63 inches wide and 31.5 inches deep office desk, with a 39.4 meters leg space.
But for utility workstation arrangements, we recommend you set up shelves, file cabinets or cubbies, arranged between multiple desks, which will also give you that privacy you need. And most importantly, create a 61-76 cm leg space, that also comes with a length of 48 inches and 24 inches width.
Types of Desk Chairs, and Their Recommended Leg Space
•  24-Hour Chair
This type of office chair is recommended for people who constantly sit at a desk. This type of office chair is designed to withstand long pressure as a result of long hours of use. They come with adjusters, are made with durable frames, and have a length of 28.5 inches and a width of 28.5 inches. The leg space is measured at 14 cm from the desk.
•  Computer Chair
It is also called a task chair and is often used by computer operators. They come with adjusters, for controlled comfort, and a size of 14 – 21 inches in height. Using this office chair requires you to be a bit closer to the desk, for better performance with the computer, hence, a 12cm leg space is recommended.
Also Read: Steelcase Gesture Vs Leap V2 – The Debate Rages On
Recommended Leg Space for Large Workstation
137 to 168 cm is recommended for a large office space. But this also has a lot to do with the home office design. The above-mentioned leg space is for offices with an "L" shaped office desk. This will enable the user to comfortably utilize both sides of the table.
Upholstered Chair and Executive Office Chair
Aside from the computer, and 24 Hours chairs, upholstered, and executive chairs are other common types of chairs used in both home or corporate offices. There are no standard sizes for the upholstered chair, but the commonest size is 18 to 20 inches high and the width measures 15.5 to 18 inches. Coincidentally, both of them have a recommended leg space of 17cm.
Desk in Homes
Depending on the type of office chair in use, the standard leg space for home desks is 34cm. This allows your knees to feel free while sitting at the desk. In other cases, it can also be 45 cm – but as we said, it all depends on the type of chair in use. Using a standing desk is also an option for your home office setup.
A Little Remark on How Much Leg Space Do You Need For A Desk
In a situation where you have a task workstation with a much bigger corner desk, we recommend a desk as big as 72 inches long, 72 inches wide in 36 square feet. And for the recommended leg space, 30 cm is recommended.
Also Read: The Best Herman Miller Aeron Vs Secretlab Titan Chair

Also worth reading: Why Are Eames Chairs So Expensive?