Are you finding it tough to decide whether to go for an office chair or buy a gaming chair?
Struggling to choose between an office chair and a gaming chair? Get the right one for comfortable working or gaming. Both have advantages, so make sure you really understand your needs before making a purchase. Weigh up the pros and cons of an office chair vs gaming chair when making your decision – what's best for long hours of sitting?
Hence, if you are unable to decide on one for you, this article will accommodate you in the best possible way. Here we go.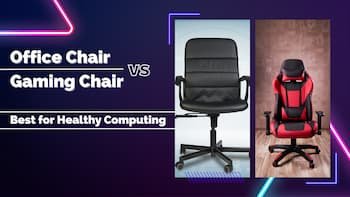 Table of Contents
Gaming chair vs office chair: what's the difference
Before deciding on any chair, you first brace yourself with the major difference they contain. The gaming chair that has bright colors and large frames stick quickly while office chairs can easily be fixed in the background.
There are some key factors that depict the actual difference between both. Whether you want a standard office chair or you want to get your hands on racing style gaming chair, these key points will help you decide. Have a look at them below:
Key Factors Office Chair Vs Gaming Chair
The back of the gaming chair is high-winged while the office chair has a short back.
The gaming chair has a bucket seat while the office chair has a flat one.
You can easily adjust the lumbar support of the gaming chair. On the other hand, the lumbar support of the office chairs is fixed.
The gaming chair has a 3D armrest while the other one has only 1D.
Moreover, the gaming chair uses above 180° recline and the office chair uses above 110° recline.
The last difference is in the design. Most gaming chairs have a colorful design while you can get the office chair in a subtle design.
These are the common differences between both chairs that you should consider if you are doing a comparison. Let's move ahead and talk about a few other points as well that describe which one is better.
1- Comfort Level
One can never compromise on the comfort level because sitting on a chair for your office work or gaming session for several hours is not easy. You have to maintain a good posture in this regard. Talking about the comfort level of gaming chairs, the material used on them lets you sit on the chair for several hours in a comfortable position.
You get foam seat cushions and contain padding on your back and arm so that you can enjoy your gaming sessions to the fullest. The size of gaming chairs is also large enough that you can sit in a perfect position. However, if you do not have a large space then it would be difficult for you to adjust them.
On the other hand, office chairs are cost-effective because of the thin material used on them. Hence, they are not as comfy as gaming chairs but the materials used on them are cooler so it gives you relaxing vibes.
If comfort is your priority then choosing a gaming chair would be a better idea because you can enjoy playing video games for hours.
2- Frame Ergonomics
Frame Ergonomics is one of the most important points in this detail that you should never take for granted. It defines how much you can adjust your chair for a perfect height and angle for your office or gaming activity. With the right Ergonomics frame, you can decrease the stress on your spine caused due to inappropriate posture. It also has a wider range.
One of the main reasons why you should choose gaming chairs is their personalized Ergonomics support. You can adjust the height while the support pillows can easily be detached so it provides you with complete lower back support. They give you adjustable lumbar support and adjustable armrests. Gaming chairs have full ergonomic support.
As far as ergonomically designed office chairs is concerned, they do not give you lumbar pillow support within the budget and you have to buy them at a high cost. The freedom of movement will surely be important for you that you can only find in gaming chairs. Unfortunately, most office chairs lack it.
3- Aesthetics are Important
We all know that when we go for these chairs, the actual concern should be our comfort and posture. With time, the taste is changing and people also want some beauty that attracts people and they can't resist praising them.
In beauty, gaming chairs top the chart because they are available in different amazing colors and beautiful designs. The bucket seats of these chairs look amazing. Moreover, you can find racing style gaming chairs as well that would look amazing.
However, your standard office chair should be a professional one. So, if you want it for your office workers or office use then office chairs tend to be more professional and better for you.
4- Price of Chairs
Price is another important and main factor that should be kept in mind before choosing regular office chairs or typical gaming chairs. Along with the price if the value is also your priority then you can not expect it to be cheap.
The starting price of gaming chairs is $100 because it comes with numerous features. You can find many cheaper office chairs because the starting price is $40 – $50. Even if you buy within this price you will have to shop for other accessories additionally that would cost more.
Hence, your new chair must have all the important elements including thigh muscles support, adjustable height feature, better value, long periods of comfort level, etc.
Check out some great chair options from these fine stores here
Should you buy gaming chairs or office chairs?
We can not name any one chair that is better than the other because each contains numerous features that we can not ignore. Which one you should buy depend on your priorities.
For instance, if you can not compromise on aesthetics, gaming chairs are better for you but if professionalism is all that you need, go for office chairs.
Conclusion
Comparing gaming chairs with office chairs, you can get a lot of notes from this guide where we have explained the difference in an understandable way. It is always better to have one that lets you sit comfortably because there is nothing better than a comfortable chair that gives you full support.
This gaming and office chair debate will go a long way so choose the one that meets all your requirement. Undoubtedly, gaming chairs offer a lot of features and so do office chairs. I hope this guide will give you enough knowledge so that you can make a decision easily.
Also Read: How do I keep my chair wheels from rolling? A Simple Guide

Also Read: The Best Herman Miller Aeron Vs Secretlab Titan Chair