As more people worldwide continue to work from home, finding the right office chair has never been more important. Sitting for extended periods can lead to discomfort, pain, and even severe health problems. One of the most crucial factors to consider is your height and how it affects your posture.
So, what office chair should you get for your height? We've got you covered! With our ergonomic chairs, you can choose the perfect fit and say goodbye to unnecessary stress on your body. Say hello to comfort and upgrade your workspace today.
We would have said computer seats, but there are other seats out there that are very suitable for your height. First, you have to understand that there is no standard height or a particular brand tagged as the best office chair. One thing you must consider before getting an office chair is your office space: you cannot probably go for large space office chairs or desks when your space barely accommodates a few large office gadgets.
The point is, getting the right office chair that suits your size forms the primary aspect of a typical ergonomic workstation. In this article, we will be listing the standard office chair height and the right type of chair that should give any user the consolation they deserve.
Table of Contents
Recommended Height for Standard Office Seats
As we have earlier stated, there is no universal standard seat height for office chairs; heights differ according to country. In North America for example, their adjustable level is tagged at 29″, while in some parts of Europe, 27″ is seen as the standard height. Again, the brand of office chair plays a major role as well (depending on the geographical location). Sometimes you find out that even the best office chair brands are not even cozy, more reason most of them come with adjusters.
These popular brands have measurements between 16" to 22" which is also seen as an ideal height in some parts of African countries. Some popular seat models and their supported standard heights include:
Also Read: Are Office Chairs Better Without Arms – Which is better?
Some of these seats might slightly be different in height when they come in second-hand office chair value. This is so because some of these brands always come with an adjuster, so the former user must have tampered with the original settings.
What Office Chair Should You Get For Your Height?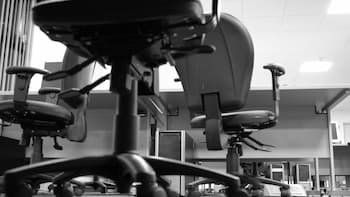 Types of Office Seats You Might Also Want to Consider
1. 24-Hour Seats
This type of seat is recommended for those who spend long hours at the desk, e.g. call center agents. They have been specially designed to withstand intense pressure and usually come with extra strong frames which are tightly padded and have little ergonomic adjustments. This office seat offers to give you the needed consolation you need because of its ability to be modified seamlessly.
2.  Big and Tall Seats
As the name stipulates, this is specifically designed for lanky individuals and those with a lot of weight. It is also very much adjustable which makes it possible for users to adjust to their preferred height, weighs 250 lbs, and is recommended for people who need more room in their office seats.
3.  Computer Seats
This is the popular one, which is why even no computer handlers prefer them. It comes with rolling casters that ensure smooth movement while in an office space. It also comes with some inbuilt ergonomic adjustments that can be modified up to 17 inches in height and can be used by anybody.
Image
Product
Features
Price

HUANUO Leather Office Chair, Executive Computer Desk Chair, Executive Office Chair with Adjustable Flip-up Arms, Leather Desk Chair with Lumbar Support

Unique Lumbar Support: This executive office chair features adaptive lumbar support with integrated spring action that pushes back according to the weight and shape of your waist. The cushioned headrest is designed to support your head and neck, while the segmented lumbar pad of the desk chair helps to relieve lower back discomfort.
Thick and Comfortable Cushions: The office chair cushions are filled with high-density foam to be 30%-50% thicker than other computer chairs for ultimate comfort and support. The side wings of the seat envelop your hips to make sitting for long periods a more comfortable experience with less fatigue.
Add Flexibility to Your Workspace: The ergonomic office chair is height adjustable from 43.5" to 46.3" with a tilt-rocking feature so you can relax between work sessions. The leather office chair armrests can be flipped up when not in use for more arm flexibility.
Strong and Sturdy Support: The sturdy base and gas lift are SGS and BIFMA tested to ensure that the executive office chair can support up to 300 lbs weight capacity and is suitable for people in the height range of 5' to 6'3". Purchase this executive desk chair with confidence knowing that it is manufactured to the highest standards.
High-Quality PU Leather: This PU leather computer chair is a luxurious addition to any workspace. The high-quality leather material is durable and easy to clean, making the desk chair easier to maintain than chairs made of other materials.

Discover Your Best Deals Now!
Check Other Retailers

HUANUO Office Chair, Ergonomic Mesh Office Chair, Computer Chair with 2-Way Adjustable Lumbar Support, Headrest and Armrest, High Back Desk Chair with Tilt Lock Function

Ergonomic Chair: The first generation Huanuo office chair was designed according to the shape of the human spine. The back fits snugly and provides great support. The seat is larger and wider to balance the pressure on the hips and thighs for a healthier and more comfortable working experience.
Bidynamic Lumbar Support: The lumbar support system of computer chair adjusts 0.8" forward & backward and 2.36" up & down to properly match your height and body shape. Effective support and protect the lumbar spine while long-time sitting.
125° Reclining Tilt: The office chair can be easily reclined back to 125° by pulling out the lift handle, and pushing the handle back to lock the position. You can enjoy a moment of real relaxation and rest when working tired.
Various Adjustments: This ergonomic office chair has seat height adjustment 18.5'' - 22.4", multi-angle headrest adjustment, armrest up and down adjustment 3.9" function. The desk chair supports correct posture and true comfort.
Sturdy Breathable Mesh Chair: This ergonomic mesh office chair ventilates your body and prevents heat build-up. High-quality mesh material resists abrasion and deformation. The sturdy seat structure supports 300 lbs. Silent casters are wear-resistant and smooth.
Easy to Install: The office computer chair is easy to assemble, we provide installation instructions and all accessories. If you need any help, please feel free to contact the after-sales staff, HUANUO brand is worthy of confidence.

Discover Your Best Deals Now!
Check Other Retailers

Duramont Ergonomic Office Chair - Adjustable Desk Chair with Lumbar Support and Rollerblade Wheels - High Back Chairs with Breathable Mesh - Thick Seat Cushion, Head, and Arm Rests - Reclines

★ MORE ADJUSTABLE THEN ANY OTHER CHAIR IN ITS CLASS — Unlike the office chairs sold by our competitors, which allow you to either fully recline or sit upright, we have a SECOND adjustment lever that allows you to lock in your desired recline angle at ANY degree. That way, you can be assured of finding the perfect comfortable seating position just for you.
★ BREATHABLE MESH - The breathable mesh back on this ergonomic office chair provides support while keeping your back cool and comfortable. Cool air circulates through the mesh keeping your back sweat-free and allowing you to sit in the chair comfortably for longer periods of time compared to traditional chairs
★ FULLY ADJUSTABLE BACK SUPPORT - Having back issues or don't want to develop them? Our unique office chair includes adjustable lumbar support that goes in and out, up and down, and a recline feature that allows you to tilt the backrest back or sit straight. Now you can quickly find a position that makes your back feel the most comfortable!
★ EASY TO INSTALL - Simple instructions enable anyone to put this executive chair together in eight simple steps! Then once built you'll be able to adjust the chair to your individual needs. The chair's pneumatic controls will let you raise or lower the seat and tilt back the backrest or sit straight up. You can easily find the ergonomic position that will allow you to work comfortably for long periods of time
★ HIGHEST QUALITY WITH 5-YEAR WARRANTY - This adjustable task chair is made to last. It has a weight capacity of 330 LBS and is made from the highest quality materials, including a soft cushion seat, sturdy arm and head rests and rollerblade caster wheels that allow you to move easily across the office floor. Get your office chair – and boost your work comfort! Your purchase will be backed by a 100% money-back guarantee. Try this chair for 90 days - if you don't love it, you can return it

Discover Your Best Deals Now!
Check Other Retailers

Ergonomic Office Chair Computer Desk Chairs - Mesh Home Office Desk Chairs with Lumbar Support & 3D Adjustable Armrests (High Back)

✅ ANY-POSITION TILT LOCK DESK CHAIR: 90-130 degree synchro reclining at ANY POSITION locking tilting, adjustment system (chair height, lumbar support, 3D armrests and headrest). Our ergonomic desk chair with wheels focus on every details to fit your personal needs, whether you are working, studying or resting. The high back office chair provides a long hours comfortable
✅ ERGONOMIC OFFICE GAMING CHAIR: Compared with other swivel office chairs' plastic 1D armrest, our 3D armrests with bigger, thicker & softer PU padding are the best to fit your various seating position. Big and tall office chair equipped with breathable mesh back and adjustable lumbar support, giving you a full back support, relieving your low back pain and keeping you cool
✅ LARGE ADJUSTABLE HEADREST: Mesh office chair with headrest which is bigger than other task desk chairs, it can be adjusted up and down for head and neck support. The shape of the padded headrest is rectangular to accommodate your head well. Thanks to soft memery foam wide seat cushion, our ergonomic chair can relieve the pressure on your thighs
✅ DURABLE COMPUTER DESK CHAIR: Weight capacity 330lbs home office chair with wide seat is ideal for adults comfy. 5 star heavy duty matal office chair base with 360° swivel mute casters go smoothly on any floor or carpet. With a modern compact looking and useful features, the ergonomic office chair goes well in office, gaming, and home
✅ EASY ASSEMBLE OFFICE CHAIRS CLEARANCE: With clear instruction, our supportive office chair for desk can be easily assembled with a single tool in 10 minites. BIFMA certified sturdy work chair meets the requirements for durability and stability. Best customer service is provided to our highly rated rolling computer chair, feel free to contact us if you meet any problems

Discover Your Best Deals Now!
Check Other Retailers

KERDOM Office Chair, Ergonomic Desk Chair, Breathable Mesh Computer Chair, Comfy Swivel Task Chair with Flip-up Armrests and Adjustable Height

【Modern Ergonomic Office Chair】 Sleek design and simple adjustment mid-back computer desk chair. Match different decorative styles. Great for office, home, living room, study room, conference room and computer room.
【Comfy Desk Chair】Ergonomic backrest fit the natural curve of the lower back, relieve the pressure on the back. High density mesh back, flexible supportive, breathable. Thick padded seat cushion make you comfort all day.
【Multi-Functional Adjustment】1) Armrest : 90°adjustable flip up armrest, can slide the chair under the table to save your room space. 2) Height : Pneumatic height adjustable from 17.7 inch to 21.2 inch to match different stature.
【Stable & Durable】The swivel desk chair has high bearing capacity base with 360° swivel smooth and silenced rolling wheels. Max Capacity 250 lbs.
【Easy to Assemble】 We offer installation instruction and video to help you. Usually takes 15-20 minutes to assemble.

Discover Your Best Deals Now!
Check Other Retailers
As an affiliate, we earn from qualifying purchases. We get commissions for purchases made through links in this post.
Calculating the Height of Office Seats: Make Sure that your Both Feet Touch the Floor
There is a way to calculate the level of office seats. An ideal modern office chair is designed to suit all and sundry, but then you should play your part to get the perfect level that suits your consolation. This is the easy part, since there is no such thing as the most congenial office seat, you must modify it up to your preferred plush level.
Office Seat Level Calculator
Enter the height of your desk and the length of your legs in inches to determine the appropriate level for your office seat.
The appropriate seat level for your desk is inches from the ground.
Office Chair Heights
| Height Range | Standard Chair Height (in inches) | Ideal Chair Height (in inches) |
| --- | --- | --- |
| Under 5'0″ | 15-16 | 14-15 |
| 5'0″ – 5'5″ | 16-19 | 15-17 |
| 5'5″ – 6'0″ | 19-21 | 17-19 |
| Over 6'0″ | 21-22 | 19-21 |
This will be easier if you sit on it, then keep adjusting until you find your fitted consolation plane – watch your knee level while in the process. Again, don't over-adjust downwards, stop when both feet firmly touch the ground, which you are likely to achieve at a 90-degree angle. Failure to do this has some negative effects on the body, especially the backbone and knees.
Also Read: How do I keep my chair wheels from rolling?
Calculating the Height of an Office Chair: Forearms Must be Parallel to the Desk
This is yet another way to compute the right comfort level of an office chair. For individuals who work with a computer keyboard and mouse, a suitable distance between the desk and seat is necessary for optimum performance. So, when you are out surfing for the coziest office chair to buy, check the forearms and make sure it equates to the modified seat level. Try to raise the height of the seat up to the elbow to form a 90-100° open angle.
Health Benefits of Getting the Right Height for Your Office Chair
You have to also know that there are benefits that come from getting the needed consolation level of a chair. But when you are unfortunate, it is likely you may suffer from a circumflex humeral artery, and back pains.
Sitting on a chair where the consolation level is badly modified can also cause posture-related hazards that often affect the spine. When you are seated in this type of chair, the backbone barely moves, and when this happens, it can result in aches over time, which is common in the lower back area.
When this happens, the hip and circumflex humeral artery pains will likely follow suit. It is general knowledge that a bad sitting habit can lead to compression of the discs in the spine, thus, can trigger premature chronic pains.
Adjust your Chair According to Your Consolation Level
There are different chairs for different folks, the best office chair for rotund individuals might be a bit lower for taller but lighter humans. Below are some recommended chair heights for persons of different heights:
7'2″ – 23.2 inches
4'11" – 15.9 inches
5'1″ – 16.4 inches
5'3″ – 17 inches
5'6″ – 17.8 inches
But note, that the above listed can differ according to the user's body ratio. But in all, the most important thing is that the adjuster is working fine, and can push you up to the table level.
Advantages of a Perfectly Adjusted Chair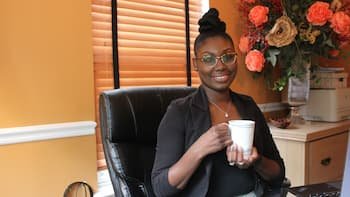 •  Supports Human Posture
With a sung office chair for home or office, you will be able to correct most of the bad postures. This is possible especially if you are using a steelcase leap chair. The designers did well in adding the most needed features that have the power to correct the user's postural defects by just resting their head and back on the support area.
•  More Consolation
This is what you get especially when you are using a high-end office chair, e.g. a Sihoo Office Seats. Because of their user-friendly features, spending at least a day on such a chair helps calm your nerves, especially if the seat is made of a sofa.
Reduces Risk of Neck Pain
Setting your chairs to get the needed height is one, using the upper support area is another. A well-modified office chair prevents the stiffness of the cervix and shoulder, thereby reducing the chances of the user having cervical spondylosis.
Conclusion: A Brief Remark
You must understand that having the right adjustment to office chairs does not completely eradicate the problems workers encounter in their workplaces, but getting a fitting height for your office seat is a good place to start. Make sure that each adjustment suits you, even when your feet are touching the floor. But in all, make sure you are restful.