Ooma Phone for Business Calls Versus Other Phone Systems
Small business owners have a lot to think about. From keeping the lights on to hiring the right team, there's a lot that goes into running a successful company. One thing that is often overlooked is choosing the right phone system that allows you to use an existing phone number. After all, how much does a phone system really matter?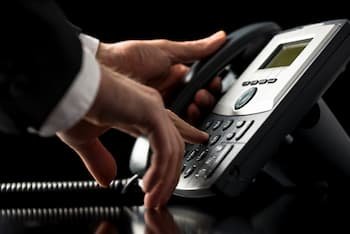 As it turns out, quite a lot. Your phone system is actually one of the most important tools you have for running your business. It's how you stay connected to your customers and clients, and it can be a major factor in determining whether or not you close a deal. In other words, it's worth taking the time to choose the right office phone system for your small business.
And that's where Ooma comes in. Ooma offers a cutting-edge VoIP communications solution that is perfect for small businesses. With Ooma, you'll enjoy crystal clear call quality, reliable service, and advanced features at an affordable price. Best of all, Ooma requires no long-term contract, so you can try it risk-free.
If you're looking for an office phone solution that will help your small business thrive, look no further than Ooma!
Table of Contents
Ooma Office At a Glance
Ooma Office is a business phone system that offers business owners and entrepreneurs a convenient VoIP phone service for their offices.
It is built for scalability, allowing businesses of all sizes to accommodate business growth. Not only is it reliable and easy to set up but its features are designed to enable business owners to run their businesses efficiently and easily.
Keep your current phone number or get a new local number – free of charge! With this option, you can update the look and feel of your business without incurring any additional costs.
With Ooma Office, they benefit from business-class features such as an auto attendant, professional voicemail, advanced call forwarding settings, virtual numbers, voicemail transcription and more for a unified communications setup. Additionally, they can stay connected while on the go through their mobile app.
Ooma Office is the easiest way for businesses to get phone service and grow their business.
How Much Do Ooma Business Phone Systems Cost?
With Ooma business phone systems, businesses of any size can now enjoy all the features of a professional office phone system, without spending a fortune. Ooma's Office Plan is perfect for small businesses needing VoIP service, with plans starting at $19.95 per month — plus taxes and fees.
With no contracts and reliable quality service, Ooma customers enjoy crystal clear call quality and impressive features like unlimited calling in the US and Canada and virtual assistant support. Plus, Ooma Office comes with an array of additional business services ranging from auto-attendant setup to various add-ons that help you customize your Ooma experience.
So don't let the cost of business phone systems hold your company back; Ooma Office plans are an affordable way to stay connected with customers and stay ahead of the competition.
Business Phone Systems Types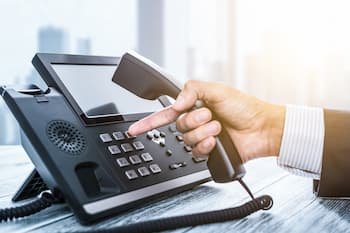 Finding the right business phone system for your specific business needs can be a daunting task. There are many types of business phone systems available, each with its own features and benefits.
For those needing the freedom and flexibility of a mobile workforce, VoIP is an ideal choice; while businesses with more complex security requirements can benefit from PBX systems that provide comprehensive hardware access control.
Each type offers its own advantages and drawbacks so it's important to understand what requirements need to be fulfilled before settling on the best system for your business.
Ooma Virtual Receptionist
The virtual receptionist solution from Ooma is perfect for businesses of every size. It simplifies and streamlines the management of customer calls, so you never miss an opportunity or delay a response to your customers.
With the customizable virtual receptionists offered by Ooma, you can automatically route incoming calls with up-to-date processing technology and friendly virtual receptionists.
Features like voicemail, call transfer, and menus that direct calls create a professional environment for your business. And the virtual receptionist is available 24/7, so you can provide exceptional service without staffing up during peak hours.
Ooma virtual receptionist provides an easy-to-use solution for handling all of your incoming calls – try it today and simplify your customer communication!
Ooma Residential and Business Phone Numbers
Having phone numbers for both residential and business phone calls has become more important than ever.
With the Ooma phone system, you can be sure to get reliable phone calls through both your home and work phone numbers. Furthermore, these phone numbers are toll-free so you don't have to worry about phone bills when you make these important phone calls.
Setting up an Ooma phone system is also a breeze, as it requires minimal setup time. By setting up an Ooma system, you can start making phone calls quickly and easily with peace of mind.
Is Ooma Office Right for You or Your Business?
Ooma Office is a great solution for businesses that need desk phones and want to save money on their phone bills.
This VoIP solution is easy to set up and can support companies of any size. It allows you to talk with excellent sound quality throughout the world, so you can stay connected with colleagues and customers anywhere, anytime.
With Ooma Office Pro, users have the power to document each phone call – ensuring no important conversations are ever lost!
Ooma Office puts the power of a professional enterprise phone system within reach for small business owners, providing secure calling and features such as an auto attendant, HD calls, and fax services – all at an affordable price. Make every call count with Ooma!
Whatever your needs are when it comes to desk phones, Ooma Office is worth considering if you're looking for a reliable and cost-effective way to stay connected.
Find The Right Phone System For Your Business
It can be overwhelming to find the right phone system for your business, but staying on top of the technology available is essential.
With the wide selection of communications solutions for businesses, it can be difficult to determine which are best suited for your individual needs. Finding out what features you require is key in order to making an informed decision and ensure that your business's communication requirements are properly met.
Ooma vs. the Competition
Ooma is a great choice for an all-in-one home phone system solution. With Ooma, you are able to easily order online and configure the setup in no time at all.
Not only do you get a crystal clear HD quality connection, but you also get an array of other useful features like being able to use any touch-tone cellphone as your home phone and free US-based customer support.
Compared to its competitors, Ooma is known for its low start-up costs and minimal monthly subscription fees for its basic service plan – with customers paying only applicable taxes and fees. All of this combined makes it a very affordable phone system that won't cause a strain on your pocketbook.
Will I easily find support on Ooma Office?
If you're looking for support with Ooma Office, the answer is yes! This powerful communication platform comes with a customer service team dedicated to helping you get the most out of your subscription.
Whether you need technical help troubleshooting an issue or want to learn more about all the features and functionality available within Ooma Office, their customer service team is ready and willing to provide assistance.
Plus, you can access helpful tutorials on the website for more independent guidance through any issues or questions that arise. With Ooma Office's commitment to customer service, you have access to quick and easy support whenever you need it!
Ooma Cost
The Ooma cost structure can vary depending on which plan you choose and how you intend to use the service.
The Home Free plan is perfect for those who are looking to keep their monthly costs as low as possible, while the Premier plan offers many more features such as free calling to Canada and access to advanced call-blocking technology.
Everyone's phone needs are unique, so why should our products be any different? Ooma provides options for all budgets and preferences – from single lines to multiple phones or extra equipment.
If you're not sure where to start, don't worry! Ooma's friendly customer service team is happy to help ensure that your purchase fits perfectly with your lifestyle.
Does Ooma Office offer enterprise plans?
Ooma Office provides an excellent enterprise plan for businesses looking to upgrade their office phone systems to a reliable, cloud-based solution.
With Ooma enterprise, you can enjoy unlimited calling and voicemails, easily customizable phone systems with advanced features like enhanced audio quality and fax support, adaptable app integration for devices running iOS and Android operating systems, as well as 24/7 customer service. With Ooma enterprise solutions, you can get the tools your business needs without breaking the bank.
Take advantage of Ooma's cutting-edge offering now and start building your own successful phone system today.
Can I trust Ooma Office to keep our communications secure?
Ooma Office is designed with enhanced call blocking, so you can trust your communications are secure.
It provides technologies to help detect and block calls from invalid or malicious numbers. You can also choose who can reach you, as Ooma Office allows you to set up custom call-handling rules based on the caller's identity.
Furthermore, Ooma Office offers enhanced fraud protection measures and enhanced encryption to give businesses the highest levels of security available in the market. All of these features combined provide peace of mind that your communications are secure with Ooma Office.
Are VoIP phones secure?
The use of VoIP systems drastically changes how people communicate these days and the convenience of the system often overshadows the potential security risks.
While using VoIP systems is incredibly cost-effective and user-friendly, it's important to understand that they may not offer the same level of protection or encryption as traditional landlines.
Securing your VoIP networks is an essential step to make sure you're safe when using this technology as threats like unauthorized access can still present a concern.
By taking the proper precautions, such as setting up firewalls and encrypting call data, you can ensure your VoIP phone is 100% secure.
What customer service does Ooma offer?
Ooma ensures top-notch satisfaction by giving customers access to their team every step of the way. Whether they need help troubleshooting through a tutorial or would like quick and courteous responses, Ooma's customer service is always just one click away!
Their customer service representatives are knowledgeable, friendly, and ready to help with issues related to product setup, service activation, billing inquiries, account support, etc.
Additionally, they will go above and beyond by providing tips and advice tailored to customers' individual needs or preferences so users can make the most of their experience with Ooma's services.
Does Ooma have a mobile phone app?
Ooma is a great way to stay connected no matter where you are. The mobile phone app makes it even easier to use Ooma on mobile devices such as mobile phones, tablets, and more.
With the mobile app, you can access the same features available on a desktop computer anytime and anywhere, while also making and receiving calls without any dropped connections. There's no need to worry about how strong your Wi-Fi or cellular signal is since the mobile app runs independently from them.
Additionally, you can easily manage all of your account preferences, such as voicemail settings, forwarding rules and more with just a few simple taps of your mobile device.
Does Ooma have video conferencing?
Ooma is a great choice for both residential and business users when it comes to making and receiving phone calls. However, many people want to know if Ooma offers video conferencing.
The short answer is no, Ooma does not currently offer any type of video conferencing capability. This may come as a surprise considering how popular video conference calls have become, but Ooma primarily focuses on providing traditional voice call functions.
If you're looking for the video conference experience, there are numerous other services available that specialize in offering this technology.
What does Ooma integrate with?
Ooma is a revolutionary VoIP (Voice Over Internet Protocol) service that allows users to make clear and reliable calls online. It integrates with a great range of different services in order to provide the most convenient solution for its customers.
Whether you need something for your business or home, Ooma can be integrated with Home Security systems, Business phone systems, Automated Assistants such as Amazon Echo, popular mobile phones and devices, Smart Thermostats, Home Automation systems, and more!
Plus, due to its advanced AI-powered features, you can receive a personalized call experience with smart routing in less time than ever before.
All in all, this makes Ooma the perfect choice for those looking for a quality voice service provider.
What type of phone service is Ooma?
Ooma is a revolutionary communication system for both residential and business customers.
It offers far more than your traditional home phone service; Ooma also provides Ooma office pro, a business phone system that allows businesses to make calls with advanced features such as auto-attendant, which routes callers to the appropriate department or team member. ooma's state-of-the-art VoIP technology delivers clear, crisp audio quality and a host of other features corporate users demand, like online faxing support and enhanced voicemail options.
Additionally, Ooma leverages its cloud infrastructure to provide advanced security and reliability, making it an extremely reliable option compared to other business communication systems.
Whether you're running a small web shop from your home or maintaining an international law firm in the city, Ooma office pro is sure to meet your communication needs.
What hardware does Ooma offer? Ooma Office At a Glance
Ooma is the latest in communication solutions, offering powerful hardware and advanced features that can help any business boost its productivity. Among its many offerings, Ooma provides ip phones and desk phones suited for businesses of all sizes.
The IP phone is ideal for those wanting mobility throughout their workplace without sacrificing quality sound or features such as caller ID, call waiting, and voicemail.
Those preferring to stay put at a single desk can take advantage of the desk phone – equipped with all the same features mentioned above plus an additional color LCD display and speakerphone.
Both types of phones are designed to elevate the customer experience while allowing you to effectively manage your communications. With Ooma's wide range of options, your business can easily find the right fit!
Ooma Virtual Receptionist
Ooma virtual receptionist or the Ooma office manager is an effective way to help streamline your business operations. This helpful service can answer incoming calls on behalf of your organization, take messages or call recordings, and route them via call forwarding to the appropriate employee all while reducing labor costs.
Additionally, virtual fax offers the same ease and convenience as a virtual receptionist, allowing you to send and receive faxes without the need for additional phone lines or a dedicated fax machine.
Together, a virtual receptionist and virtual fax can help simplify your communications operations and save you time and money in the process.
Why We Chose Ooma for Small Businesses
Choosing a communications system for small businesses is never easy, but with Ooma it has never been simpler.
Ooma provides crystal clear call quality, unlimited calling to over 60 countries and a simple setup process that anyone can do in minutes. Plus the service has applications on both mobile devices, computers, and landline phones, so customers don't need to choose between convenience and hassle when it's time to make an important call.
We chose Ooma because it meets all of these criteria while also providing top-notch security protocol by offering industry-leading encryption to clients' data, so they never have to worry about their communications being compromised.
With Ooma, you can ensure that your business phone system will be up and running without fail and with the confidence that peace of mind brings.
In Summary
Overall, we think Ooma Office is a great small business phone system. It's very user-friendly and offers features that are tailored to the needs of smaller businesses.
The monthly price is very reasonable, especially considering all the features you get. If you're in the market for a new business phone system, we recommend starting your search with Ooma office business phone services.
Be sure to check out their website to learn more about what they have to offer and how it can benefit your business.