Steelcase Era and Cogent are both Steelcase office chair products, and office furniture that offers a wide range of products for the modern office. Both office seating brands are popular, but which one is better?
In this article, we will compare and contrast Steelcase Era vs Cogent to help you decide which brand is best for business space solutions.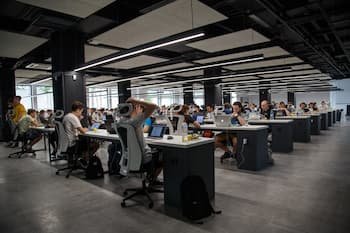 Table of Contents
Steelcase Era vs Cogent: A Side-by-Side Comparison
The Steelcase Era and the Cogent office chair Series share similar characteristics and differences. Below are a few bits of information for reference:
Browse Office Chairs From These Fine Retailers
Steelcase Era office chair
Steelcase Cogent office chair
Design & Style of Office Furniture
The Steelcase herringbone style fabric provides a beautiful and perfect seating upholstery choice.  
The Era is available in 23 different colors, making it the perfect choice when someone wants to change their furniture style but wants to retain simplicity and class.
Although Cogent: Connect has several interesting shades, its knitting patterns don't look as aesthetically pleasing as those we have seen.
Colors vary
There are many different colors of fabric used on office chairs. Ultimately, it is important that the chairs match the color scheme of your office furniture. In a similar way, different eras and styles of design are complementary.
Steelcase chairs have a wide selection of different color combinations, which makes it a great alternative to neutral colors and is suitable for any office decor.
Texture
Despite both fabrics being made from 100% polyester, their textures differ vastly due to their unique body designs.
The Cogent fabric is softer to the touch because of its knitted fabric construction, while the herringbone weave gives it a more rugged look. The performance textiles are very comfortable, making Cogent Connect a good choice for office chair cushions with woven woolen fabric.
Breathability
Cogent: Connect has better breathability than other chairs because it is designed with knitted fabrics that allow for higher airflow.
This is a great option for office workers who work in hot or warm climates.
Fabric stretch and firmness
The fabric on Cogent has a slight stretch that can move with you if you shift positions. The case on Steelcase is firmer when compared to Cogent. There is a slight stretch if one moves or sits down.
Check out this video on the Cogent Connect fabric. https://youtu.be/Dm1if4Q4_BY
Maintenance and cleaning
Both textiles can be easily cleaned and maintained.
Steelcase is more difficult to clean than other chairs because it is designed with a woven fabric. The woven fabric does not allow for easy cleaning and requires manual intervention. Cogent, on the other hand, is very easy to clean.
Also Read: Steelcase Gesture Vs Leap V2 – The Debate Rages On

Also worth reading: Desk wobbly on carpet? Here are some tips to fix the problem
Conclusion:
The Steelcase Era vs Cogent: Both are great choices for upholstery material, but you'll need to decide what's important to you in a chair before making a decision.
If you want to give your office a more sophisticated and modern vibe, the Era is a good choice because it comes in a variety of neutral colors.
Adding brightness to your room is easy with the Cogent. With fun and vibrant colors, you can bring more life to any space. Both of these office chairs offer exceptional durability with proven performance and quality.