Are you in search of a reliable and efficient communication system for your business? Look no further than our Dialpad review.
In this blog, we will take a deep dive into what real users have to say about Dialpad's user interface, call quality, customer service, integrations, and pricing. We'll also provide an overview of the features offered in each plan, along with the pros and cons according to real-life users.
Additionally, we'll compare Dialpad to other popular communication systems and answer some frequently asked questions about the platform. By the end of this post, you will have all the information you need to make an informed decision about whether or not Dialpad is right for your own business communications needs.
Table of Contents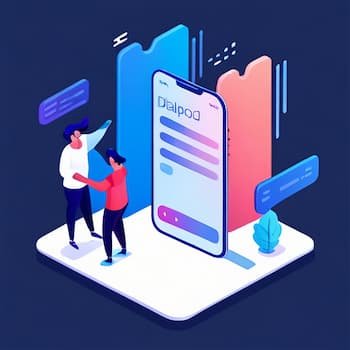 Overview of Dial pad Reviews
As a cloud-based communication platform, Dialpad has received many reviews from users praising its user-friendly interface and ease of use. The flexibility offered by the mobile app and web-based platform has also been appreciated.
However, some users have experienced call quality issues and faced challenges with customer support. Despite these concerns, Dialpad has garnered positive feedback for its features, pricing, and reliability.
With so many positives to consider, let's delve deeper into what makes Dialpad stand out in the world of communication platforms.
Dialpad's User Interface
Dialpad's user interface is a key factor in its popularity among users. The modern and intuitive design makes it easy to navigate, and users appreciate the ability to customize their experience.
The "smart" features, such as automated note-taking and transcription, also enhance the overall user experience. Dialpad's mobile app has a similar interface to the desktop version, providing consistency across devices.
Overall, Dialpad's sleek and user-friendly interface with voice intelligence features also sets it apart from other communication platforms.
Dialpad's Call Quality
Dialpad's call quality is one of its most highly acclaimed features. Users consistently rate it highly, thanks to the use of cloud-based technology that allows for clear and reliable connections.
But what sets Dialpad apart are its additional features designed to enhance call quality. For instance, noise reduction and echo cancellation ensure that calls are free from background disturbances, and users can enjoy seamless conversations without any disruptions.
The mobile app also provides high-quality calls on the go, making it easier for users to stay connected at all times. Overall, Dialpad's commitment to providing superior call quality has certainly paid off with positive user reviews.
Dialpad's Customer Service
Dialpad's commitment to excellent customer service is evident in its round-the-clock support team available through phone, email, and chat. Users appreciate the convenience of a self-service knowledge base that offers quick solutions to common issues.
The company's emphasis on customer satisfaction has earned it positive reviews from customers, who speak highly of their experience with Dialpad's knowledgeable and responsive support staff.
With Dialpad's prompt and effective customer service, users can rest assured that any concerns or issues will be addressed promptly and efficiently.
User Reviews on Dialpad's Integrations
Dialpad's ability to integrate with other popular business tools is one reason why it is highly recommended by users.
By integrating with G Suite, Salesforce, Slack, and Zoom, Dialpad simplifies communication and collaboration for teams. The Google integration allows users to make calls directly from their Gmail accounts, while the Salesforce integration streamlines call logging and tracking.
With the Slack integration, team members can easily make calls and send messages without leaving the app. Finally, the Zoom integration facilitates both video meetings and conferencing directly from Dialpad's platform, making remote meetings more accessible and efficient. Overall, Dialpad's integrations increase productivity and save time for busy professionals.
Dialpad's Pricing
Dialpad offers various pricing plans to fit businesses of different sizes and budgets. With their per-user, per-month pricing model, companies can select the plan that meets their requirements, from the Standard plan to the Pro plan and finally the Enterprise plan.
Each plan has a different set of features, with the enterprise solution offering advanced analytics, custom integrations, and full API access that enables businesses to customize Dialpad's platform according to their requirements.
Customers can opt for an annual subscription and receive discounted rates, while Dialpad also provides a 14-day free trial for businesses to test their service before subscribing.
Standard Plan Features
Businesses looking for an affordable communications solution will find Dialpad's Standard Plan a compelling option. The plan offers unlimited calling, messaging, and video conferencing, along with integrations with popular business tools such as Salesforce and G Suite.
Starting at $15 per user per month, with annual billing discounts available, this plan provides businesses with a robust set of features at a budget-friendly price point.
Additionally, the 14-day free trial allows businesses to test out the features before committing to a plan, ensuring that they are satisfied with the services provided by Dialpad.
Pro Plan Features
For businesses looking to upgrade their communication tools, Dialpad's Pro Plan offers an impressive set of advanced features. This plan includes call recording, voicemail transcription, and call analytics to provide users with detailed insights into their communication habits.
Additionally, the Pro Plan gives users the option to choose between monthly or annual payment options, with discounts available for annual subscriptions. Another advantage of this plan is the unlimited domestic calling and texting in the US and Canada.
Overall, Dialpad's Pro Plan is a cost-effective solution for businesses seeking to streamline their communication systems while gaining access to advanced features.
Enterprise Plan Features
Large businesses with advanced communication needs can benefit from Dialpad's Enterprise Plan, which offers a range of features that are not available in the Standard or Pro plans.
The customizable roles and permissions feature allows businesses to delegate responsibilities effectively and reduce the workload on their IT teams. The advanced analytics and reporting capabilities enable businesses to monitor their communication channels' performance and make data-driven decisions.
Lastly, 24/7 support ensures that businesses receive prompt assistance if any issues arise. While the Enterprise Plan may come with a higher price point, larger organizations can leverage it to streamline their communication processes and increase productivity.
Real User Reviews: Pros and Cons of Dialpad
Introducing real user feedback is a key aspect of evaluating any product or service, and Dialpad is no exception. Users appreciate the platform's user-friendly interface and flexibility to work across multiple devices.
The high-quality video and voice calls offered by Dialpad are also consistently praised. However, some users have reported occasional glitches and bugs, as well as limited customization options. Despite these challenges, Dialpad's integration with popular software platforms such as Google Workspace and Salesforce has been particularly well-received by businesses.
Overall, the dialpad talk platform appears to be a solid choice for organizations seeking a reliable communication solution with robust integrations.
Pros of Dialpad
Dialpad's user-friendly interface and intuitive features make it a top choice for businesses seeking a cloud-based communication platform. The platform provides easy navigation with minimal disruptions or lag time, ensuring high-quality voice and video calls.
Additionally, Dialpad's pricing plans are affordable and offer excellent value for money, making it an ideal choice for small and medium-sized businesses looking to streamline their communications.
With responsive and helpful customer support available 24/7, Dialpad ensures that businesses can focus on their operations while leaving the communication aspect in capable hands.
Cons of Dialpad
While Dialpad has a lot of advantages, there are some cons that need to be considered. One of the most common issues reported by users is the occasional glitch or bug in the system. While these issues are typically resolved quickly, they can still cause delays and disruptions.
Another drawback is the limited customization options for call routing and other features, which can make it difficult for small businesses with specific needs to fully utilize Dialpad's capabilities.
Additionally, while Dialpad's pricing plans offer great value for money, some users have found the prices to be higher than competitors in the market. Customer support can also be slow to respond to inquiries or issues, which can be frustrating for businesses that rely on prompt resolutions.
Despite these drawbacks, many users still find Dialpad to be a reliable and user-friendly option for their communication needs.
How Does Dialpad Compare to the Competition?
Dialpad is a strong contender in the crowded communications market, but how does it compare to other providers? One of Dialpad's primary advantages is its cloud-based platform, which provides flexibility and mobility for workers.
Additionally, the platform's interface is user-friendly and intuitive, providing easy navigation for users. When compared to competitors like Nextiva and RingCentral, Dialpad offers affordable pricing plans with great value for money.
However, some users have reported issues with call quality and reliability, so it's important to compare all features before making a decision. Overall, Dialpad's unique combination of affordability and functionality makes it stand out in the market.
Dialpad vs. Nextiva
When it comes to choosing between Dialpad and Nextiva, businesses have a range of factors to consider. Both platforms offer similar features like video calling, conferencing, team messaging, and call routing, but differ in terms of their interface and reliability.
Dialpad boasts a more modern and user-friendly interface with advanced AI-powered features such as real-time transcription and language translation. Meanwhile, Nextiva is known for its reliable call quality and comprehensive suite of communication tools.
Ultimately, the decision between the two depends on your business's specific needs and priorities.
Dialpad vs. RingCentral
When it comes to comparing Dialpad and RingCentral, both cloud-based business phone systems offer similar features with competitive pricing plans. While Dialpad is known for its user-friendly interface and better mobile app experience, RingCentral excels in integrations with other business tools like Salesforce and Microsoft Teams.
Ultimately, the choice between the two will depend on your personal preference and your business's specific needs. It's essential to evaluate each platform's strengths and weaknesses against your objectives before making a decision.
Dialpad vs. Grasshopper
When it comes to choosing a cloud-based phone system for your business, Dialpad and Grasshopper are both solid options. While both platforms offer similar features, there are some key differences to consider. Dialpad is known for its advanced AI-powered tools such as real-time transcription, making it an excellent choice for businesses that require accurate documentation of their calls.
On the other hand, Grasshopper places more emphasis on-call management and routing, making it an ideal solution for businesses with high call volumes. Additionally, Dialpad offers seamless integration with popular business apps like G Suite and Salesforce, while Grasshopper integrates with Google Voice and other Google products.
Ultimately, the decision between these two platforms will depend on your specific business needs and priorities.
Dialpad's Free Trial: What You Need to Know
Trying out a new communication platform can be a daunting task. That's why Dialpad for voice intelligence feature offers users a 14-day free trial period to test out all of its features and functionalities. During this time, users have the opportunity to explore Dialpad's various tools, including voice, video, messaging, and integrations. This free trial comes with access to Dialpad's customer support resources as well, ensuring that any concerns or questions can be addressed promptly. Overall, the free trial is an excellent way for users to determine if Dialpad for voice intelligence is the right fit for their business needs.
Additional Costs to Consider with Dialpad
When choosing a business phone system, it's important to consider not just the initial costs but also any additional expenses that may arise. With Dialpad, there are a few extra costs to keep in mind. For instance, while international calling rates are competitive, it's worth checking for any hidden fees or charges.
Additionally, some advanced dialpad features such as call recording and transcription may come with an extra cost. Similarly, while many integrations are included in Dialpad's plans, some may require additional fees for setup or ongoing usage. Finally, if your team grows beyond the number of users included in your plan, you may face additional costs to add more users to your account.
Additional Numbers Cost
When it comes to expanding your dialpad business, adding additional numbers can be an appealing option. However, it's essential to consider the costs associated with adding these numbers to your Dialpad account. While Dialpad does offer the ability to add extra numbers to your account, they may come at an additional cost.
The price for additional numbers varies by location and type of number, so it's important to carefully evaluate whether the benefits of additional numbers outweigh the added expense. By taking a strategic approach to adding additional numbers, you can ensure that your communication needs are met without exceeding your budget.
Room License Fee Cost
When considering Dialpad's pricing plans, it's essential to keep in mind the potential additional cost of room license fees. These fees are required for each conference room or physical location that uses Dialpad, and the amount will vary based on the plan you have unlimited office locations you choose and the number of rooms you need.
However, some plans may include a certain number of rooms without an additional fee. To optimize your business needs and budget, it's crucial to carefully evaluate your conference room requirements before selecting a plan that best suits your business needs.
Frequently Asked Questions (FAQs) about Dialpad
When it comes to business communication software, Dialpad is a popular choice for many companies. But what exactly is Dialpad and what services does it offer? In short, Dialpad is a cloud-based phone system that provides voice, video, and messaging capabilities. But it doesn't stop there – Dialpad also offers integrations with other popular business applications like Salesforce, G Suite, and Slack.
With its user-friendly interface and reliable call quality, both employees and customers alike can benefit from using Dialpad as their go-to communication platform. Plus, with various pricing plans available, businesses of all sizes can find a plan that fits their specific needs and budget.
What is a Dialpad VoIP?
Dialpad's VoIP (Voice over Internet Protocol) is a cloud-based phone system that has revolutionized communication for businesses of all sizes. Unlike traditional phone systems, Dialpad's VoIP allows users to make and receive calls through the internet, eliminating the need for clunky hardware and expensive maintenance fees.
In addition to cost savings, Dialpad's VoIP phone services offers a range of features such as video conferencing, messaging, and call recording that provide users with enhanced collaboration options. Users have praised Dialpad's VoIP for its reliability, ease of use, and excellent customer support. With HD audio and noise-cancellation technology, Dialpad's VoIP ensures an optimal voice experience for all users.
How does Dialpad protect against spam calls?
Spam calls can be a major issue for businesses and individuals alike, but Dialpad has taken steps to protect its users. With features like call blocking and caller identification, Dialpad can automatically identify and block known spammers. Additionally, Dialpad uses advanced AI technology to analyze incoming phone calls, and identify potential spam callers.
Users can also manually block numbers or report spam callers to further improve the system's accuracy. With encryption for all calls and data, Dialpad offers reliable protection against unwanted communications. Overall, Dialpad's spam call protection is a valuable feature that enhances the user experience by reducing distractions and improving productivity.
Is the Dialpad mobile app user-friendly?
With the increasing trend toward mobile devices, it's crucial for business communication platforms to have a user-friendly mobile app. Dialpad's mobile app meets this need with its intuitive and easy-to-use interface, available for both iOS and Android devices. Users can access all the features of the desktop version from their mobile device, including messaging, calls, and video conferencing.
The app's clean design makes it easy to navigate, allowing users to quickly find what they need. Additionally, users can switch seamlessly between devices during a call without any interruption in service. Overall, Dialpad's mobile phone app and desktop app both have received positive reviews from users who appreciate their convenience and ease of use.
Frequently Asked Questions
What are some of the most common pros and cons cited by Dialpad users?
According to Dialpad users, some of the phone services plans most commonly cited pros include its user-friendly interface, reliable call quality, and easy setup. Users also appreciate the ability to integrate Dialpad with other business tools like Salesforce and Slack.
However, some users have reported occasional glitches or dropped calls, limited customization options, and higher pricing compared to some competitors as cons. Despite these drawbacks, many users find that the pros that dialpad offer outweigh the cons and highly recommend Dialpad for businesses looking for a cloud-based phone system.
How does Dialpad compare to other similar communication software options?
Dialpad stands out among other communication software options with its user-friendly interface and range of features, including voice and video calls, messaging, and various video conferencing tools. While some users have reported issues with call quality or customer support, overall reviews are positive.
Other similar communication software options include Zoom, Microsoft Teams, and Google Meet. However, for those seeking a simple and easy-to-use platform, Dialpad may be the best fit.
Are there any specific features or capabilities that set Dialpad apart from its competitors?
Yes, Dialpad offers several unique features and capabilities that set it apart from its competitors. For example, it has an AI-powered voice recognition feature that transcribes conversations in real-time, making it easier to keep track of important information.
Dialpad also seamlessly integrates with other business tools like G Suite, Salesforce, and Zendesk, which can save time and increase productivity. Its mobile app includes features such as SMS messaging, screen sharing, and voicemail transcription for easy communication on-the-go.
Finally, Dialpad's analytics and reporting capabilities provide valuable insights into call quality and team performance, helping businesses make data-driven decisions.
What is the overall satisfaction rating for Dialpad among its users?
According to user reviews, the overall satisfaction rating for phone support at Dialpad is high, with an average rating of 4.5 out of 5. Users appreciate the ease of use and reliability of Dialpad's services, though some have reported issues with call quality and customer support.
Despite these concerns, the majority of users recommend Dialpad as a reliable communication platform.
Conclusion
In conclusion, Dialpad is a reliable and feature-rich voice-calling option for businesses of all sizes. Their user interface is easy to navigate, call quality is top-notch, and their customer service is always ready to help. With various pricing plans and features tailored to meet different business needs, Dialpad has emerged as a strong contender in the communication software market.
Don't just take our word for it – read real user reviews on Dialpad's pros and cons to make an informed decision. To learn more about Dialpad's pricing and features or to sign up for a free trial, visit their website today.