If you've ever tried to move an office chair with hair stuck to the wheels, you know how frustrating it can be. It can be really frustrating to deal with the tangled mess that accumulates on chair wheels over time – but don't worry!
We have the perfect solution for you. Learn how to get hair out of chair wheels in a few simple steps. With our top tips and tricks, you'll be able to rid your wheels of any unwanted hair without any hassle.
Table of Contents
Tips and Tricks on How to Get Hair Out of Chair Wheels
Have you tried every trick in the book but still not managed to get rid of those unwanted tangles? If yes, then look no further – this guide has the best tips and tricks on how to get hair out of chair wheels. Read on to learn how to make your wheelchair or regular rolling chair look neat and tidy again!
How to maintain caster wheels?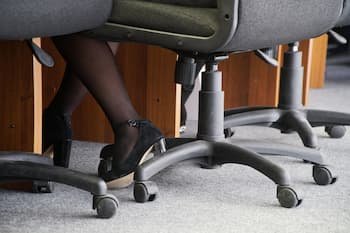 One of the most important aspects of chair design is caster wheels. Caster wheels allow you to move around easily while remaining seated, and they also make it easy to move your chair from one spot to another. This is essential for maintaining an ergonomic position and avoiding strain or injury.
In addition, caster wheels make it easy to keep your chair in the right place. This is important for maintaining a smooth and efficient chair rolling experience. chair wheels are constantly inspected for wear and tear, and keeping them clean is essential for preventing dust buildup.
You could consider a chair mat to not only protect the floor surface but chair mats on carpet certainly will help reduce all the hair from getting into your office chair wheels.
How to remove casters from office chairs?
Depending on the type of caster you have, removing it can be a quick and easy process. For most desk chairs, the caster is simply held in place with pressure. To remove it, all you need to do is pry it out with a flathead screwdriver or a pry bar.
However, some casters may be more stubborn and may require the use of a hammer to loosen them. Once the caster is out, you can easily replace it with a new one. With just a little bit of effort, you can keep your desk chair in good working condition for years to come.
Preparing to Clean Chair Wheels
In order to remove the chair's wheels, you will need to remove outer debris that may be caught in them. This can be done by using a brush or a vacuum cleaner attachment. Once the debris has been removed, you can begin to work on removing the wheels themselves.
Most seats have removable casters, but it can take considerable leverage to remove them. Having the casters in hand and working at the table can be more useful than bending a seat and working from a floor, especially in cases of back pain and other issues.
Often a seat has no removable wheel which can cause difficulty handling. Flip the chair upside down on its back, and use a plastic sheet underneath to catch any of the tangled hairs and debris.
Disassemble the wheels
Many people have pets that shed, and as a result, their homes can become covered in pet hair. One way to deal with this problem is to invest in a good vacuum cleaner with strong suction.
However, another alternative could be disassembling the caster on your chair and getting rid of the clumps of hair that have gathered there. This will help to ensure and keeps your chair rolling smoothly and does not become bogged down by pet hair.
In addition, it is important to regularly brush your pet to help reduce the amount of hair that is shed. By taking these simple steps, you can help to keep your home free of pet hair.
Crochet Hook or Hooked Needles Etc.
It's possible that anything with small hooks could get underneath hair clumps and pull them away. It can be done by dozens of different techniques. The small hook crocheted with hair can be pulled out with scissors, butter knife or plucked with tweezers to pull them out and then removed.
Duct Tape
The adhesive tape is bound to hairs and can easily be removed from the hairs. This technique generally serves as a midway cleaning process and as a secondary way to remove hair after removal by another method.
Tweezers and Elbow Grease
The easiest way to get rid of hair from an office chairs wheel is to pry it up with a tweezer. A simple set of strong scissors can do fine for pulling out hair chunks. Alternatively, tweezers or pliers can be used if you have no desire for them. Anything allowing you access into the small space and grabbing something and pulling it out should work for you as well.
Razors or Scissors
Anyone who has ever used a chair with wheels knows that over time, hair and other debris can become wrapped around the wheel, making it difficult to move. If you find yourself in this situation, there are a few methods you can use to remove the debris. One is to try using a razor; simply run the blade along the edge of the wheel, and the hair should come right off.
If that doesn't work, or if you're worried about damaging the wheel, you can also try using a pair of scissors. Just be careful not to cut yourself! With a little patience, you should be able to get the wheel clean and working properly again.
Apply Lubricant and Re-attach the Wheels
After you have cleaned your wheels, it is important to dry them completely to prevent the metal parts from rusting. Then, apply a lubricant to the metal sections to ensure smooth movement.
For best results, use a lubricant with an extended application tube so that you can get a good grip on your chair casters. If you are cleaning your wheels on a carpet, avoid applying lubricant to the surface to make it easier to clean.
Once you have cleaned, dried and lubricated your wheels thoroughly, you can reattach them to the table.
Browse Office Chair Casters on Amazon
How do you get gunk out of chair wheels?
Over time, office chair wheels can become covered in gunk, making them difficult to move and increasing the risk of damaging your floor. There are a few simple ways to clean chair wheels and keep them in good condition.
One way is to remove the wheels and soak them in warm, soapy water. This will help to loosen any build-up of dirt and grime. Once they have been soaked, scrub the wheels with a soft brush or cloth to remove any remaining dirt.
Another way to clean office chair wheels is to use a vacuum cleaner with a small attachment. This can help to remove any dust or debris that has become trapped in the wheels. Finally, you can also clean chair wheels with a damp cloth or sponge. Be sure to dry the wheels afterwards to prevent rusting.
With a little bit of care, you can keep your chair wheels clean and free from gunk.
How do you get a stuck caster wheel off?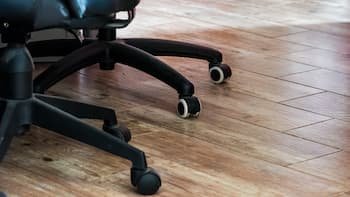 If you have ever had a caster wheel become stuck, you know how frustrating it can be. But there are a few things you can try to get that wheel moving again. First, try gently tapping the wheel with a hammer. This can sometimes loosen whatever is causing the wheel to stick.
If that doesn't work, you can try using a pry bar or a screwdriver to gently pry the wheel up. You may need to apply some force, but be careful not to damage the wheel. If those methods don't work, you may need to resort to more drastic measures.
Try heating the wheel with a blow torch or applying WD-40 to the area around the wheel. Either of these methods may help to loosen the stuck caster wheel.