In today's increasingly digitized world, the use of television isn't limited to just a living room or a home theater. With the evolving dynamics of the modern workplace, many workers these days are wondering: should you put a TV in your office? Is it a good idea? In this article, we explore the benefits and drawbacks of having a TV in your office and provide some tips on how to get the most out of it.
Look around you, and you can find televisions in so many office environments, including waiting rooms, break rooms, lobbies, and service areas, so why not in the office environment?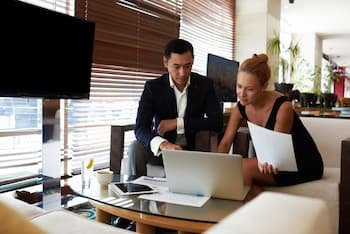 You can use a TV mounted in different directions to promote employee morale and get them involved in their work whether you use it for free channels, streaming services such as Roku tv, Netflix, and many other, or just to display relevant work information perhaps in a conference room.
Is a large tv screen size the best option for optimal viewing experience for the office conference room or any other room that is used for internal communications? Read on to find out more!
Table of Contents
Is your office a good place to put a TV?
You may be wondering Why Should You Have a TV in Your Office? What is the best tv type for your business or conference room?
Keeping your employees informed
Staying current on world events and news is a favorite pastime for many. You could place your TV in the corner of your office and watch the news. Your employees can be kept informed about current affairs without distraction when the volume is kept low or the video is muted (accompanied by subtitles).
Two things are accomplished with this. The first benefit is that it keeps your employees on top of business and industry news. Staying connected and informed is possible due to multiple access points.
The second reason is that employees often want to know what's going on when large news stories and talking points are breaking. On their phones and computer screens, they will likely be following the story all the same. So it would make sense to have the news playing in the background to appease their curiosity.
Playing the news throughout the day will make it less likely that you will be distracted and disturb your colleagues when a breaking news story breaks. This will enable them to stay up to date as they go about their daily routine.
Having a quality tv in the office makes displaying information during staff meetings easier and available for everyone to see You can relax and watch TV during your lunch break!
Tool for informational purposes
Besides broadcasting and streaming, TVs can also serve as whiteboards, billboards, and other uses. If you want to get the word out, don't print out ads or internal communications. TV screens provide a great way for teams and departments to display their achievements, announce milestones or celebrate anniversaries. You'll have a good work environment if you do all of these things.
Add background noise
Complete silence can disrupt concentration and create a tense working environment for most people. An office with a lot of quiet can benefit from a TV as background noise. Whatever the source of the TV's background noise, keeping it at a low, non-intrusive volume can promote worker productivity whether it is TV news, music, or some daytime show.
It's a great tool for meetings
You can make any office meeting more exciting by displaying PowerPoints, and documents, or demonstrating ideas on the TV screen. The team can view your ideas and notes if you connect your laptop or computer (wired or remotely) to a TV screen. That's way better than everyone seeing the same thing on their personal screen.
It is also possible to cast Zoom to our TVs to have our entire team working from home in stunning high definition using our TVs.
How to choose the right TV for the office? Or How To Pick The Right TV for the Office?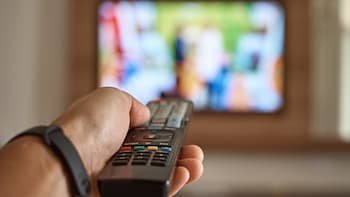 The next thing to resolve is what kind of television to install in your office if you've decided you like the idea of installing one. Several factors need to be considered:
Display
Decide whether you'd prefer an HD TV or a 4K TV that will provide an incredible resolution if you're willing to splash out. Invest in high-quality TVs instead of low-quality devices. To find TVs with great display resolution, check out our selection of Samsung 4K TVs or Cheap 4K TVs.
Sound
It is important to buy a TV with excellent sound quality if you're going to play the news or other programs while in the office. The sound quality must be clear enough that everyone can hear it, not just people seated nearby. For a silent information display, you may not have to be too concerned with the sound quality.
Screen size
A TV screen can be as small as 15″ or as large as 75″. If you would like to use your screen for displaying information or programs, make sure the size will not obstruct the space in the office by taking up too much space.
Connectivity
A TV with the right kind of ports or remote casting capabilities will likely be able to connect to a computer, apple tv, or laptop. In almost every TV nowadays there will be enough HDMI ports, but you will also have to ensure that the TV's placement will not make connecting devices to it difficult.
Where should a TV be placed in an office?
If your job involves watching TV, or if watching TV is a large component of your job, you should mount an office TV directly in front of your desk. It's easier to see the overtop of your laptop than over desktop monitors.
Modern TVs – Deciding for a great option
Image
Product
Features
Price

SAMSUNG 32-inch Class LED Smart FHD TV 1080P (UN32N5300AFXZA, 2018 Model)

Full HD 1080p Resolution - Enjoy a viewing experience that is 2x the clarity of standard HD TVs..Power Supply (V) AC110-120V 50/60Hz
Smart TV - Get to your entertainment the faster, easier, and more intelligent way. Easily access your streaming services all in one place using the Samsung Remote Control.
Micro Dimming Pro - Reveal a more true-to-life picture with enhanced contrast.
Quad Core Processor: enjoy a Fluid browsing experience and faster control switching between apps, streaming content and other media effortlessly.
Dimensions: Without Stand 28.9" W x 17.3" H x 3.1" D | With Stand 28.9" W x 18.2" H x 6.4" D. Stand Size (WxHxD)-5.4 x 6.5 x 1.8 inches
Inputs Outputs: Two HDMI Input, One Component Video Input, One RF In (Satellite Input), One RF In (Terrestrial Cable Input), One USB Input, One Composite In (AV), One Ethernet (LAN) and One Digital Audio Out (Optical)

Discover Your Best Deals Now!
Check Other Retailers

VIZIO 40-inch D-Series Full HD 1080p Smart TV with Apple AirPlay and Chromecast Built-in, Alexa Compatibility, D40f-J09, 2022 Model

1080p High-Definition - Watch TV in crisp, clear 1080p Full HD resolution and experience a brilliant picture with the VIZIO D-Series.
Full Array LED Backlight - Evenly distributed LEDs across the screen's backlight deliver superior light uniformity and picture performance.
IQ Picture Processor - Delivers superior picture processing, faster navigation, and quicker load times to get to your favorite content faster.
V-Gaming Engine Automatically optimizes picture mode for gaming and makes next-gen console gameplay more responsive with Auto Game Mode, Variable Refresh Rate with AMD Freesync, D-Series lowest input lag, and newly added gaming menu.
SmartCast - With intuitive navigation, enjoy instant access to the best selection of apps from top-tier streaming services like Netflix, Disney+, YouTube, HBO Max and many more right out of the box.

Discover Your Best Deals Now!
Check Other Retailers

TCL 32" Class 3-Series Full HD 1080p LED Smart Roku TV - 32S359,Black

Stunning Full HD: Stunning Full HD resolution offers enhanced clarity and detail for all your favorite entertainment.
Simple, customizable home screen: Your favorite broadcast TV, streaming channels, gaming console and other devices are front-and-center, so you can spend your time relaxing – not scrolling.
Stream what you love: Enjoy free TV, live news, sports, movies, and more.
Endless free entertainment: Access the best selection of free entertainment with 250+ live TV channels, award-winning Roku Originals, in-season shows, hit movies, kids' TV and more.
Live TV Channel Guide with 250+ free channels: Use the convenient live TV guide to surf broadcast TV and live streaming channels in one place.

Discover Your Best Deals Now!
Check Other Retailers

SAMSUNG 65-inch Class Curved UHD TU-8300 Series - 4K UHD HDR Smart TV With Alexa Built-in (UN65TU8300FXZA, 2020 Model)

TRANSFORMATIVE 4K PROCESSOR - Transform everything you watch into stunning 4K with the ultra-fast processor.
IMMERSICE CURVES TO ENHANCE VIEWING EXPERIENCE - Modern and polished, the sleek curved design fills the contours of your space with an immersive viewing experience.
DECORATE YOUR SPACE WITH YOUR FAVORITE PHOTOS - Elevate your space with Ambient Mode+ which enables your screen to mimic the wall behind it, so you can match your TV to your décor, artwork and more.
YOUR NEW HOME OFFICE - Mirror your computer's display on the TV screen wirelessly and ap into your office PC to access files or work on documents using Microsoft Office 365—all from the comfort of your couch.
EXPERIENCE THE BEAUTY OF 4K UHD RESOLUTION - Crisp, clear picture with 4X the resolution of Full HD.
SEE IN STUNNING DETAIL - High Dynamic Range (HDR) lets you enjoy a wide spectrum of colors and visual details, even in dark scenes.
Included components: Power Cable
Connectivity technology: HDMI

Discover Your Best Deals Now!
Check Other Retailers

Sony A90J 83 Inch TV: BRAVIA XR OLED 4K Ultra HD Smart Google TV with Dolby Vision HDR and Alexa Compatibility XR83A90J- 2021 ModelwithSony HT-A3000

COGNITIVE PROCESSOR XR – Revolutionary TV processing technology that understands how humans see and hear to deliver intense contrast with pure blacks, high peak brightness, and natural colors.
XR TRILUMINOS PRO - Rediscover everything you watch with billions of accurate colors and see pictures that are natural and beautiful to the human eye.
Get the full effect of Dolby Atmos and DTS:X with Sony's Vertical Surround Engine, S-Force PRO Front Surround and 360 Spatial Sound Mapping
360 Spatial Sound that adapts to your environment available with optional rear speakers

Discover Your Best Deals Now!
Check Other Retailers
As an affiliate, we earn from qualifying purchases. We get commissions for purchases made through links in this post.
Where to put a Home Office TV?
In the Home Office, the desk is, without a doubt, the most essential piece. There is nothing but a desk around which everything revolves. Where you place your desk in your home office, and consequently where you place your TV, will be determined by which room you use:
●     Home office in garage
●     Home office in a closet
●     Home office in dining room
●     Home office in small space
●     Home office in living room
●     Home office in the family room
●     Home office in a guest bedroom
●     Dedicated Home Office
Why having a TV in your room is bad?
It is simply a distraction. There are many ways in which television can distract an employee from their work. There are a number of reasons that might explain this, including the presence of background noise or overeating after watching it.
Can a TV be left on?
Over time, the television will get dimmer, sooner, if it is left on all the time as opposed to if you only watch it a couple of times a week. LCDs can have their life prolonged by lowering their backlight settings (many LCDs) or by lowering their contrast levels (plasmas)… LCDs aren't the same.
Final words: Should You Put A TV In Your Office?
Televisions are an ideal addition to the office: they provide background noise, allow you to stay on top of the news, track the financial markets, and let you enjoy multitasking programs while working. Depending on your line of work and position, smart TV apps might even increase your productivity.
A guest room gives your visitors their own space to relax and rest at their leisure and makes even more sense if you have the room double as a visitor room. Why it is so popular to include televisions in guest rooms and vacation rentals is unknown. 
It can also serve as a distraction, interrupting your focus and preventing you from completing your work on time by taking a minute here or there 
If you are looking for distraction, you don't need to head outside. Your computer screen or phone has social media, games, gossip blogs, and streaming videos to soothe the darkest parts of your procrastinating heart. What do TVs have to do with it?
You should instead offer yourself a chance to improve yourself by setting some limits and healthy boundaries instead of punishing your lack of self-control. Music videos are a simple way to distract yourself from TV shows and movies. Identify your strengths and weaknesses and continuously enhance your skills.
Also Read: Clever Under Desk Storage Ideas to Help Organize Your Space