Introduction
Looking at turning a closet into a home office workspace?
Probably because you've spent way too much time being constantly interrupted while trying to work at the dining room table, in the living room, or at the kitchen table.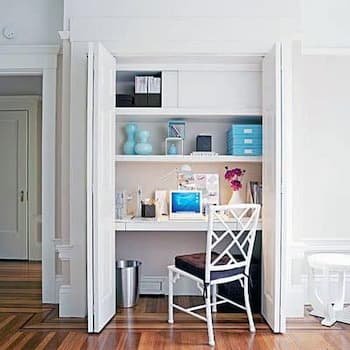 Maybe you even had a guest room you used – that is, until guests came over and you had to haul everything back out or try to fit it into some corner somewhere. Hassle, constant interruptions, extra packing, and unpacking of needed supplies.
Let's fix all that and turn a closet into your new and improved home office!
Table of Contents
Why you should make a closet workspace office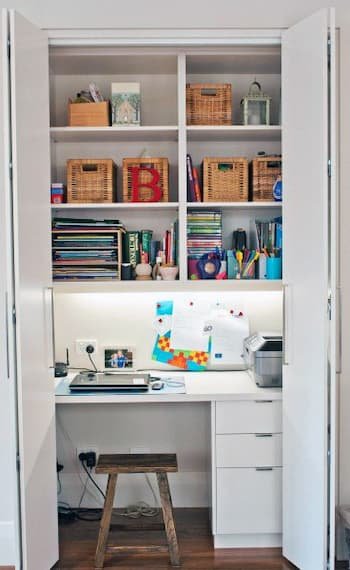 For starters, a closet office can be any size. You may be thinking you need a full-on, walk-in closet to do a closet-into-office reno. That is not the case! Even a small bedroom closet can be turned into a cute, functional workspace.
You don't need an entire room for a work space. Closet offices offer a unique way to make the most out of any situation.
Closet offices are incredibly functional, easy to create, and can even offer an outlet for a bit of personal style. A closet office is also a great way to help with work life balance; no more having work sitting where you constantly can see it!
Closet conversion is an excellent option for people who work from home and don't have much space available in their homes. It can be done on a small budget, in just one weekend and is easy enough that even someone with no construction experience can do it.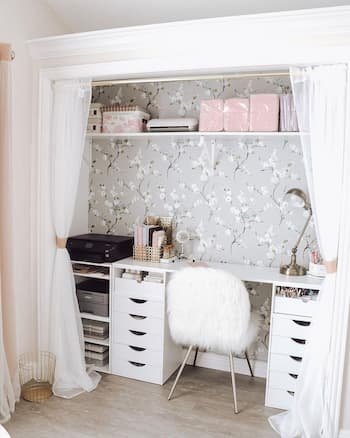 DIY Convert Tiny Closet to Office
While there is a multitude of closet sizes, let's talk about using smaller, more common-sized closets. Whether that be a spare closet, unused closet, or simply a small space an entire desk could fit into. Your mini office can be anywhere an existing closet is.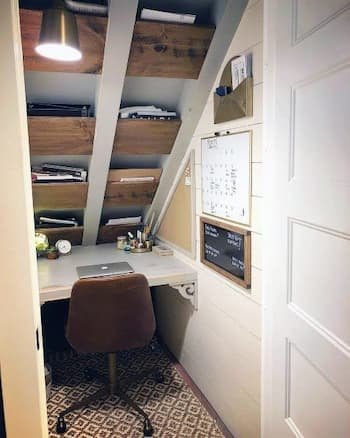 Step-by-Step Guide
Step 1. Cleaning out the closet. I'm sure there is plenty of either clothes or simply…stuff…in your closet of choice. The first step is to completely clean, declutter, and organize everything that was previously in the closet. If the closet is large enough, it could do double duty – half clothes storage, half office.
Step 2. Now that your closet is clean, empty, and ready to go, think about lighting. Closets are dark by nature, and not conducive to productive work environments. Decide whether you want to add a pot light fixture or two, or simply desk lamps.
Step 3. What sort of desk do you want? A built-in desk? Drop-down desk? What will fit and be 100% functional for you? Measure your space to see what fits. A closet office should have a desk with enough work space to fit your computer, books, and office supplies.
Step 4. Install wall mount for desktop screen: You'll want to install a wall mount that will hold your desktop computer at eye level so that it doesn't strain your neck when working at the desk in your new office space. This will also allow room on either side of it for other accessories such as speakers or printers if necessary.
Step 5. Floating shelves are a great option to add to the style and function of your closet office. Not only are they beautiful, but you can also store books, framed photos, and extra supplies on them. A floating shelf can also add to the room's decor, making it feel more inviting.
Step 6. Find a chair. If your closet office is quite small, the closet door may not allow you to store the chair in your office. A stool or small chair which fits into or under the desk would work. A comfortable office chair would be a good option if you spend many hours at the computer.
Step 7. Remove closet doors: If you want to convert your closet into a functional office, you should consider removing the standard bifold doors and putting up new ones. You can buy pre-made panels for this purpose or build them yourself from wood or metal sheets. The key is to have doors that open smoothly for easy access and to stay out of the way.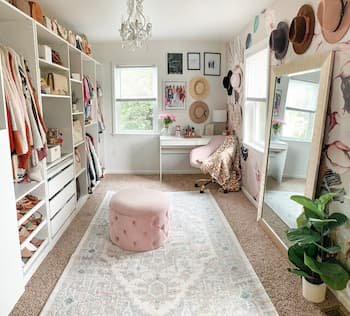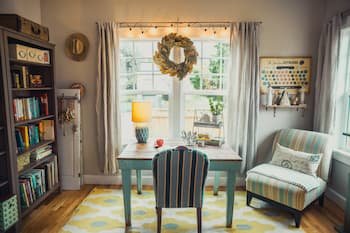 Turning a walk in closet into a closet office
Walk-in closets offer so much flexibility and creativity when it comes to crafting a beautiful office space. Working with a closet this size is almost like designing a small room instead of a tiny office nook.
Here is where closet office ideas truly shine; these closets often have plenty of space for both clothes and a home office. It does take more planning to pull it off, but it's worth the effort.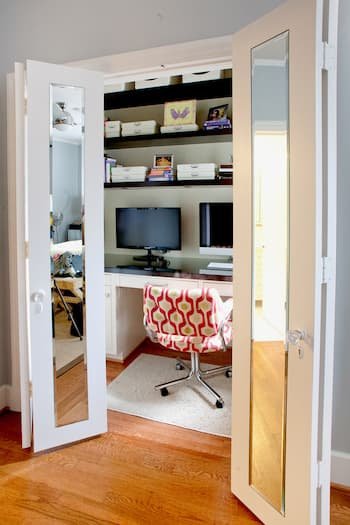 Tips on turning a large closet into a closet office
A large closet can also have the bonus of natural lighting, perfect for a bright, cheery area instead of a closed storage feel. If it does, consider adding a few plants to the room's decor. If you have a window, renovate the room so your desk can be beneath it for a beautiful view.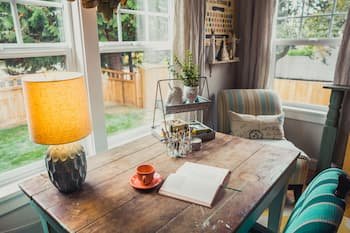 Keep it organized
If your closet didn't come with built-in wooden shelves, drawers, and cabinets, this will be part of your project of turning the closet into a functional office.
Use baskets to organize sweaters and intimates on your shelves and take advantage of every method available to keep your clothes and shoes organized. Then you will be free to use the rest of the space to design your closet office getaway. The last thing you want is for your desk to become a storage area for clean clothes.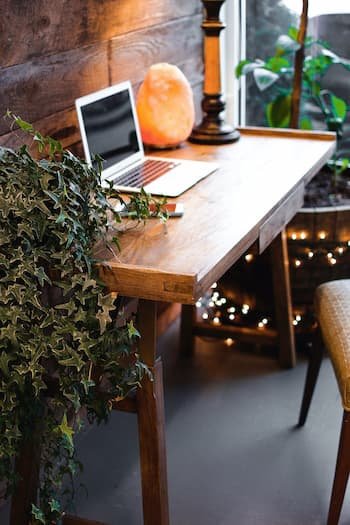 Make it inviting
Choose a generously-sized desk and a comfortable chair. Add or replace overhead lights with pot lights for good lighting. Accessorize your desk with a lovely lamp, stackable storage containers, and a pen cup.
If you have a lot of paperwork and legal documents, consider getting a lateral file cabinet.
If you don't have any files yet and don't plan on having many, consider buying something small – or maybe one drawer with some space for printer paper.
When selecting a desk, take into consideration the space requirements.
Do you need room for a desktop computer or just a laptop? A printer, file containers, and calendars? If you can, be generous in the size of the desk you purchase or build.
Converting a closet into an office by yourself is possible and easy enough if done correctly with some basic tools like hammer and nails (or screwdriver), measuring tape/ruler/leveler tool, power drill with screwdriver bits, saws (circular saw), stapler gun with staples if necessary.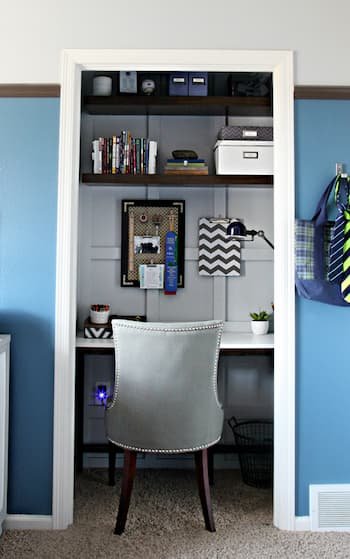 How to turn a small closet into an office
Use a closet organizer. If your closet is small, it's important to keep it organized so you can easily find what you need and put things away. A good way to do this is by using an organizer that hangs from the door of your closet.
Use a small desk and chair. If there isn't enough space for a full-sized desk or even a corner in which to set up your laptop, try using a folding table as well as some chairs that fit inside the closet itself.
Keep everything organized with labels and folders! Having clearly labelled folders will help keep papers organized so they're easy to identify and keep track of.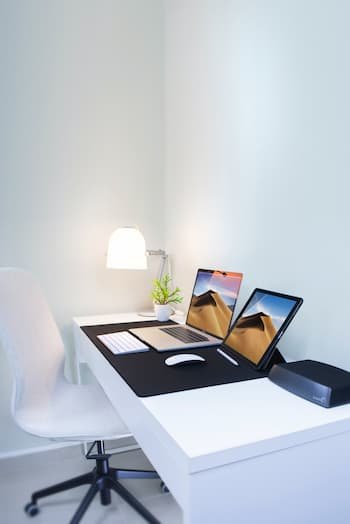 Transforming a working closet into a home office
A few things to consider when turning a working closet into a wonderful home office:
Does the closet have electric outlets in it? Does the internet reach? If not by a cord or cable, does the wifi have a strong signal in the closet of choice? If not, maybe try a different one to turn into a closet office.
How is the airflow? Desktops can put out a fair bit of heat, and if your closet office is small, enclosed, and without airflow, you may end up being too hot to comfortably work there.
Can you spare this closet? Check with your significant other before doing any kind of reno. You can get decor ideas from these fine retailers here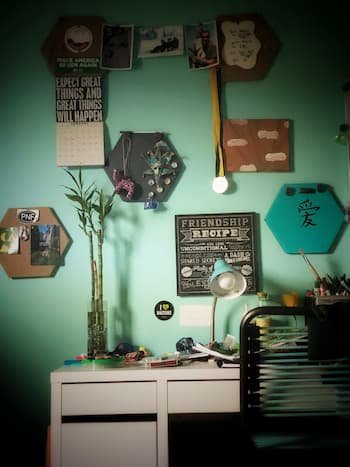 Tips for maximizing your new office's potential
If you're going to be working in an office, you'll want to make sure that your equipment and employees have adequate room. The same goes for clients, visitors, and guests–all of whom will need enough room in order to be comfortable.
Treat it like an office. Done work? Close the door. Don't go back 'for just a minute' when it's after 5 pm. Your work can now be locked away – out of sight out of mind – so you can enjoy spending time with your family.
Keep it tidy. At the end of each work day, tidy and put everything back where it belongs. your closet office needs the same attention as your cubicle.
Use the space wisely. Your closet is probably going to be a small space, so you'll want to use it as efficiently as possible.
A desk and chair are a must for any office, but if there isn't enough room for a large desk in your closet then consider using a smaller one or even just placing your laptop on top of some boxes or another surface that can double as extra storage space.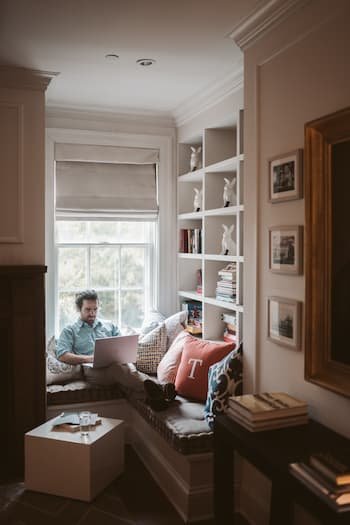 Closet Office Ideas
Ideas for closet offices are spread all across the internet, Pinterest, and Instagram. There is the inspiration for any style, any space, and any budget. Be sure to check out renovation supplies from these fine retailers here!
Closet office ideas have become a frequent search on Pinterest, and the Work From Home (WFH) people have coined their own term…cloffice.
What is a cloffice?
The term "cloffice" refers to the concept of turning your closet into a mini-office. A cloffice is a closet or nook that has been transformed into a home office.
This doesn't only mean spacious walk-in closets, as the basic requirements of a closet home office just include an area you can use as a desktop surface, some space for arranging important files plus other office supplies, and a chair to complete the setup.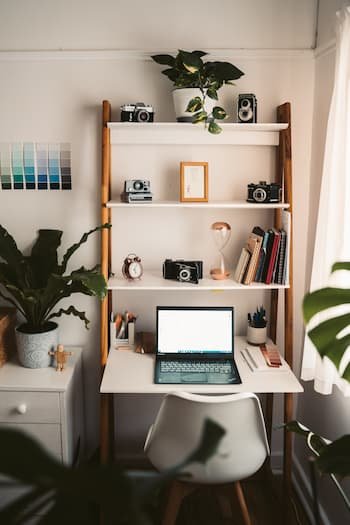 Conclusion
All in all, it's not that hard to turn a closet into an office. All you need is a little bit of time, some DIY skills, and the right tools.
Browse through these fine stores for tools and supplies you might need
Also worth reading: Should The Desk Drawers Be On Left Or Right?